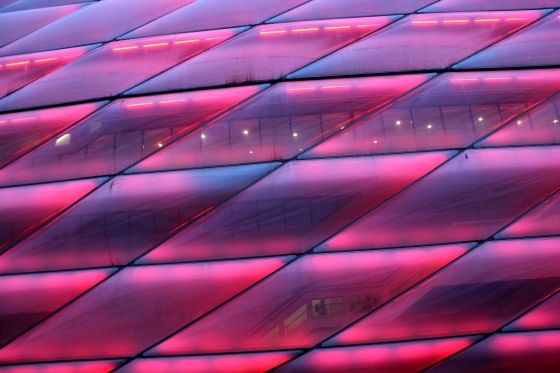 The Allianz Arena, home to the world club football champions Bayern Munich, and situated in one of the most energy-efficient countries in the world, has made a raft of improvements to the exterior of the stadium using a collection of more than 380,000 ultra-efficient LED lights.
The stadium has become famous in recent years, not just because of the dramatic footballing displays going on inside, but also for the wall of bright light that has been installed around the outside of the building. The installation of lights usually projects the team's red and blue colours on match days, but now with the collection of super high-tech new LED bulbs, it can put on spectacular light shows, the likes of which have never been seen before – all while slashing lighting energy usage by around 60%.
Instead of having a colour palette limited to blue, red and white, the bulbs can now light up in up to sixteen million different shades, allowing them to broadcast animated images and sequences on the outer shell of the stadium – a fantastic sight for fans approaching the arena in the build-up to a game!
The installation of the energy-efficient bulbs is yet another signal that the world is moving towards peak efficiency. With councils and authorities across the world using low-energy technology to brighten up public spaces, and private sponsorships like this one making lighting more spectacular than ever before, it's never been more practical and more beneficial to switch to LEDs.
The move has been funded by well-known lighting provider Philips – which is one of the many brands in stock at UK lighting provider BLT Direct. Steven Ellwood, Managing Director, says, "The new project at the Allianz Arena is going to showcase some fairly amazing results, with daring and dynamic light shows that are helping to cut Bayern Munich FC's carbon emissions by over 360 tonnes. We're finally at a stage in lighting production where functionality and aesthetics can go hand-in-hand: consuming less energy doesn't have to be all about producing less light – it's just about creating light more efficiently."
He adds, "The project in Germany will hopefully set a blueprint for similar ventures across the world, as commercial companies and those in power get to grips with the efficient future that lighting technology has opened up for us."