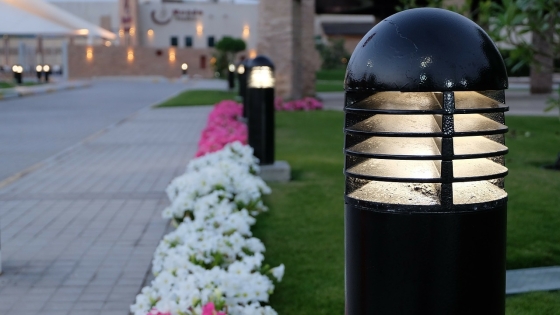 Outdoor areas have never been so stylishly lit, thanks to the brand new range of Aurora Outdoor Bollard Post Lights from BLT Direct. The new collection has just arrived at BLT Direct and is set to ensure that driveways, porches, gardens and patios are immaculately lit, with low-energy light bulbs, throughout 2015.
Aurora is one of the biggest brand names in the world of lighting, and one which BLT Direct often seeks out when searching for high-quality lighting solutions to offer its customers. The brand new post lights, all with their own wattage ratings and light output capabilities, are another example of premium lamps and lighting solutions that won't break the bank.
Steve Ellwood, Managing Director of BLT Direct, says, "February is officially the last month of winter, and many customers will now start looking forwards to spring and summer, when they're more likely to spend time outside, in their gardens or on their patios. The bollard lights from Aurora are ideal for domestic use, illuminating outdoor areas with ease and providing a stylish point of interest for visitors and guests."
He adds, "Aurora is one of the most popular brands available from BLT Direct, and it's easy to see why. The light output and energy savings offered by Aurora lamps are excellent, and with a range of colour temperatures and wattages available, customers can't go wrong."
All of the bollards are IP54 rated, which means the lights are protected from dust and water spray from any direction – ideal in Britain, where the unpredictable weather can cause chaos at any given moment!
One of the most popular lights is the stylish Aurora LED 3-watt aluminium post light, in a smooth black finish. Emitting 'Cool White' light, the post is perfect for lining driveways and pathways in gardens, as well as illuminating seated areas. At just 600mm high, the posts aren't intrusive or over-the-top – instead, they're a minimal, beautiful way to add light to a modern garden or outdoor space.
For something that makes more of a statement, there's the Aurora PLC 2-pin 13-watt anodised aluminium post light – a gorgeous bollard with a frosted white polycarbonate screw-top diffuser, for easy lamp changes and a soft glowing light. The 'Daylight' colour temperature means that garden parties and barbecues can carry on into the night, and the CFL bulb offers great energy savings for customers.