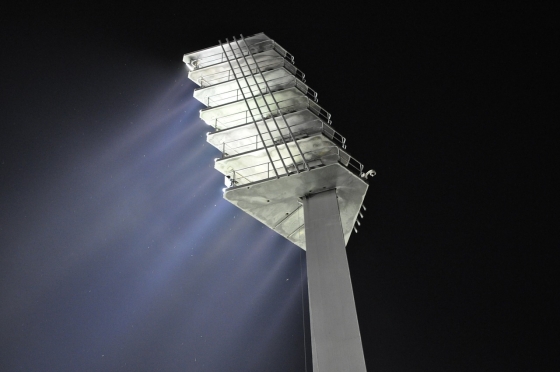 British facilities managers are introduced to a new level of illumination this month, with BLT Direct introducing a refreshed range of metal halide flood lights. Powerful and functional, metal halides are ideal for use in a variety of applications, including courtyards, car parks churches, athletic facilities, building facades, industrial warehouses and general outside areas.
As High Intensity Discharge lamps (HID) halides emit the majority of their light from an electric arc located within a small discharge tube. With high quality white light and impressive efficiency, metal halides are an established popular choice for use in urban, industrial and facilities oriented spaces. BLT Direct stocks a wide range of metal halide flood lights to suit all needs. Prices are tiered from a competitive £31.99 to £63.99, and include 70, 150, 250 and 400 watts. Lumens increase with wattage, ranging from 5500 to 34,000.
Metal halides are favoured for their pure white light frequency that's close to daylight. This creates a bright, unimposing glow that's ideal for outdoor areas. The brilliant lumen output makes them great for use in indoor areas with high ceilings, as well as industrial bay applications. All come with an IP 65 rating, meaning they are 100% protected against dust ingress, as well as pressure water jets from any direction. These hard wearing credentials make them well suited to both outdoor applications and indoor industrial environments.
All items in the BLT Direct metal halide flood light inventory are sourced from Red Arrow as a value for money lighting solution. Customers enjoy the total peace of mind that their purchases are backed with credentials from an industry leading manufacturer.
"When it comes to functionality, we're always on the search for top performers. In commercial and facilities applications it's essential to install solutions that are safe, reliable and durable. That's why we source our entire metal halide flood lights range direct from Red Arrow, a global leader in commercial lighting," says Steven Ellwood, Managing Director of BLT Direct.
For environmentally conscious buyers metal halides offer impressive energy efficiency, outperforming their mercury vapour and halogen counterparts.