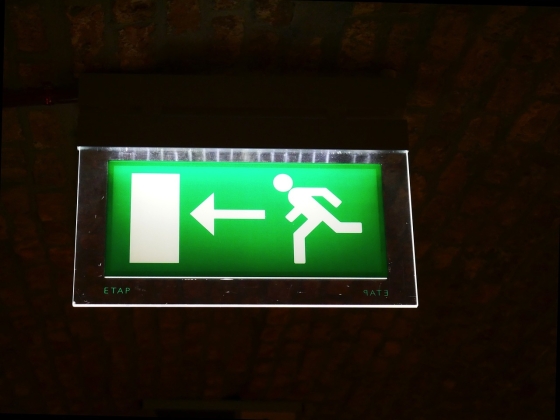 Sticky situations just got easier with the introduction of the ultra-convenient Aurora LED Emergency Lighting range to the BLT Direct inventory. Including ceiling suspended and wall mounted products as well as comprehensive emergency packs, the leading online lighting retailer has every customer need covered. From bars, restaurants and nightclubs to office blocks, warehouses and apartment buildings, the emergency lighting products could help to save lives in a worst case scenario.
Specialising in the four elements of power, control, lamps and luminaires, Aurora is a globally recognised manufacturer of energy efficient lighting solutions for a range of domestic and commercial environments. With over 15 years of experience in the lighting industry, the forward thinking company is continually developing intelligent LED energy saving products. This extensive expertise and commitment to developing next generation lighting solutions has earned Aurora the seal of approval from the demanding ream of BLT stockists.
Under current UK government law, it is a legal requirement for all fire exit routes to be clearly marked with emergency signage. BLT Direct is helping to keep businesses safe and complaint with its range of Emergency Exit Signs. Available as maintained or non-maintained models, each product offers mains voltage illumination as well as three hours emergency back-up time. The IP40 rating incorporates a self-test function and integrated emergency pack while the laser etched acrylic ensures optimal distribution of light which makes the sign perfectly visible at up to 25 metres. The estimated lifespan of the 15 LED lights is a huge 30,000 hours which makes the products a budget and eco-friendly choice for any customer.
Steven Ellwood, Managing Director of BLT Direct said, "While we do carry a huge range of domestic and commercial bulbs, our expertise does not stop there. We are committed to offering lighting solutions for every scenario which is why we've introduced the new range of LED emergency lighting. As well as keeping businesses compliant, the illuminated signage could also mean the difference between life and death in an emergency."
For site managers wishing to prepare their property for unexpected power failure, the Aurora LED Emergency Packs are a must have investment. Specially designed to offer emergency LED down light and modules back-up, the packs are easy to install and can be integrated into existing systems. Every pack comes with and LED driver, charge indicator and NiMH battery, with unique specifications to suit a range of different needs.
Every Aurora LED Emergency Sign is accompanied by a three year guarantee for the ultimate peace of mind.
Prices vary depending on models though customers can rest assured that BLT Direct boasts the most competitive prices on the market.