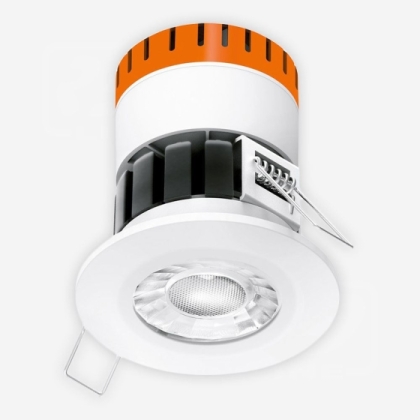 BLT Direct has cemented its status as the UK's leading supplier of light bulbs and lighting related products with the addition of Aurora Fire Rated Complete LED Downlight Units to its already impressive inventory. Ambient, efficient and incredibly versatile, the new line lends itself to a variety of commercial, retail and residential applications.
Synonymous with innovative design and premium quality, Aurora Lighting is the manufacturer of choice for households and commercial businesses across the globe. Available in i9, i10 and m10, the new SOLA Range of Fire Rated Downlighters is ideal for use in 30, 60 and 90 minute fire rated ceilings.
Steven Ellwood, Managing Director of BLT Direct, says, "We pride ourselves on offering our customers the largest online range of lighting products from the most trusted industry leaders. Aurora has been leading the way in cutting edge energy saving lighting solutions since 1999 which makes them an ideal supplying partner for BLT Direct."
With energy costs increasingly on the rise, the new Aurora Fire Rated Complete LED Downlight Units offer ultra-efficient performance designed to keep energy bills to an absolute minimum. Available in warm white and cool white colour temperature, the products are a low energy alternative to the ambient glow of energy draining halogen downlighters.
Steven Ellwood says, "With an increasing number of households and businesses feeling the pinch of rising energy costs, Aurora Fire Rated Complete LED Downlight Units are the ideal alternative to the widely used halogen counterparts. Featuring innovative design and exceptional performance, they are an intelligent choice for fire rated ceiling in a range of commercial and domestic settings."
The new line has been acoustic rated to ensure exceptional sound insulation between floors while the IP65 rating restricts water vapour ingress to guarantee the highest possible performance. Bulb life is suitably impressive, with the i10 and m10 lasting an average 40,000 hours while the i9 rings in at a huge 75,000 hours. With a five year warranty included as standard, customers are given the peace of mind that their purchase will stand the test of time.
Dimmable and non-dimmable options are available for complete control over lighting intensity while the fixed and adjustable versions offer the ultimate in flexibility. Thanks to their fantastic specs, Aurora has created an ideal solution for fire protection downlighting suitable for use in an array of environments, from commercial warehouses and retail showrooms to domestic households.
The Aurora Fire Rated Complete LED Downlight Units are currently on sale from BLT Direct at specially discounted prices representing savings of up to 65%.
To find out more about Aurora Fire Rated Complete LED Downlight Units and browse the complete range of BLT Direct products, visit Our Website
For more news please follow us on social media via Facebook or Twitter