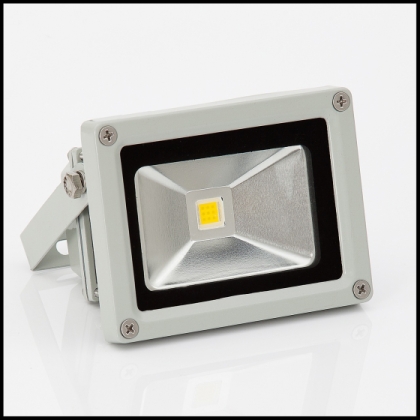 Cost-cutting and maximising budgets will be at the top of to-do lists for many businesses this year, and BLT Direct\s range of energy-efficient LED floodlights are helping many of them to do just that. For many businesses that host events or own forecourts, flood lights are a necessity, but for many years, energy-hungry halogen lights have dominated the market. But BLT Direct are helping businesses to streamline their outgoings by offering a collection of LED floodlights that can help minimise energy bills while boosting performance.
The LED floodlights available from BLT Direct offer instant cost-cutting - the reduced energy usage can result in savings of up to 90%, while the 50,000 hour lamp life ensures that these are lighting solutions that won\t need to be upgraded or replaced for many years. Just one 10-watt LED floodlight can end up saving the owner £180.00 on their energy bills over the course of its long life span. In a year when many businesses are recovering from recession, a little investment in these kind of energy-saving resources for the future is much needed.
Steven Ellwood, Managing Director of BLT Direct, which has thousands of lighting solutions in stock, says, \We\re encountering more and more businesses that are trying to cut costs and minimise their outgoings as efficiently as possible, and it is those people that we would like to introduce to our range of LED floodlights. Highly economical, reliable and robust, our floodlights are perfect for outdoor lighting, displays, exhibitions and other commercial applications, and businesses don't need to break the bank to run them. They\re the ideal investment for the company looking to streamline costs, reduce their energy bills and experience enhanced performance from their lighting solutions.</span>
BLT\s lighting products set the benchmark in the industry for quality and value - and the LED floodlights are no different. They are of the highest standard, completely shatter-resistant and perfectly designed to evenly illuminate large areas. Driveways, outbuildings, displays, exhibitions, forecourts and gardens - you name the commercial application, BLT guarantee they have a floodlight that can light it up to perfection.
There are also plenty of specialist lights that fit the bill, from solar-powered floodlights, which are perfect for cutting costs in summer, to colour floodlights that help to create a wonderful ambiance at any commercial event. There are movement sensor lamps which are ideal for security purposes, and a number of slim lamps that can be squeezed into the narrowest of spaces without compromising on the high standard of illumination expected of an LED floodlight.