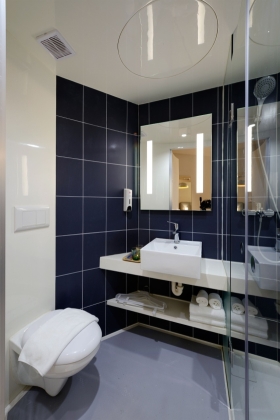 The often overlooked bathroom mirror gets a stylish update this week as the lighting experts at BLT Direct bring their know-how to the bathroom essential.
Available now, BLT Direct's new range of illuminated bathroom mirrors couples form with function. A staple of any bathroom, the carefully curated selection includes illuminated mirrors in a range of styles, all certified safe for use in the bathroom environment. All products in the range are IP44 Rated, meaning that they are sufficiently protected from accidental splashes of water.
As well as a range of sizes and styles, the illuminated mirror selection includes a choice of colour temperature outputs including cool white and daylight. The Aurora T5 IP44 Twin Fluorescent Mirror emits a cool white light and sits almost flush to the wall. It has a pull cord so it can be switched on and off independently and has contemporary cut outs running its length. It's priced at £103.50 including VAT.
Fusing a totally modern design with a robust reliability, the battery operated MiniSun IP44 LED Bathroom Mirror Light is daylight colour coded with integrated LED lamps. It's low maintenance, long lasting and low energy - perfect to quickly and easily introduce to any bathroom.
With an art-deco inspired outline, the MiniSun Dalyan IP44 LED Bathroom Mirror Light makes use of an on-off wave sensor switch to activate the LED lighting.
BLT Direct's Steven Ellwood said, "Our new range of illuminated bathroom mirrors is packed with choice. There's a selection of shapes and styles, all contemporary and designed for modern bathrooms. With battery-operated options it's also easy to find one to suit any space and level of DIY ability!"