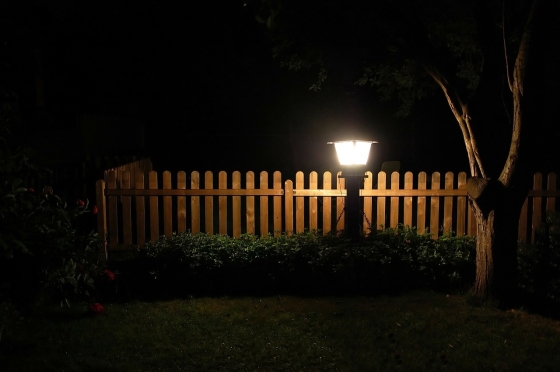 Summer is finally here and it's time to light your barbeque and invite some family and friends over to enjoy your garden – if the British weather allows for it! Creating a beautiful outdoor space where you can relax and entertain guests is high up on many peoples list of home improvements, whether they're dreaming of adding some new garden furniture or doing a complete remodel.
Lighting is an often overlooked but important part of designing your outdoor space. To get the most out of your garden you'll certainly want to add some lights so it can be used in the evening but the right lighting can also add to your overall design, create ambience and be on trend too. Why not try incorporating some of these summer lighting trends in your garden?
Fairy lights – For creating a softer light, strings of fairy lights are ideal and are back in vogue so there is a wide range to choose from. Stringing the lights up across trees or winding them around your gazebo will give your garden a warm, inviting feel.
Candles – A romantic and calming look is simple to create with some carefully placed candles. For an on trend look you could select colourful and patterned candle holders inspired by artisan fabrics around the world or go for calming muted pastels.
Lanterns – This style of lighting has been popular for years and will give you garden some classic style. There are so many different and attractive lantern frames to choose from that you're sure to find one that will match your taste – for a truly modern look that reflects the summer opt for bright and vivid colours.
Pendant lights – Pretty pendant lights are a big trend for interior designers this year but they're also perfect for adding some light outdoors. They come in lots of unusual shapes and designs so you can select one that reflects your personal style to hang around your garden.
Outdoor chandeliers – If a minimalist look isn't your style then the great news is statement lighting is no longer for just indoors. You can add a bold and stunning outdoor chandelier to give your garden or patio the real wow factor. This lighting is perfect for covered outdoor areas if you love to entertain outside in the summer months.
Inspired by nature – Draw inspiration from your surroundings to create this on trend look. From shapes reflecting flowers and leaves to picking your fittings in green and brown shades a nature influenced feel is simple to create outside.
Are you looking for any of these lighting trends? BLT Direct is the premier stockist of lighting solutions.