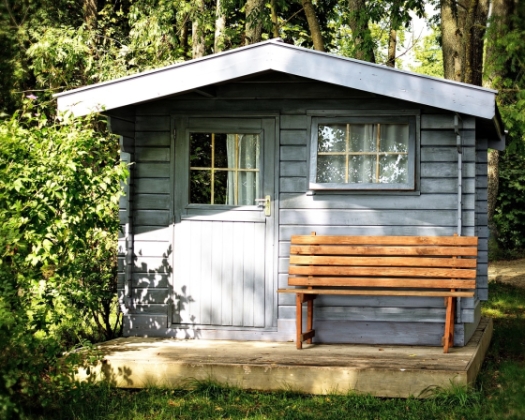 With the growing popularity of flexible working patterns more homeowners are looking for ways to incorporate a home office into their property. They may be functional but they can pose a real headache for those living in smaller homes without much free space to spare. Instead of converting a precious room inside your home it may be a better solution to build a home office in your back garden. These are becoming increasingly common because it allows for an office but also gives some degree of separation between work and home. Keep these things in mind to help your project go without a hitch…
Planning Permission
Before looking at sheds to be used for a home office purpose or sourcing a company to build a bespoke design, the first challenge to overcome is obtaining planning permission. This isn't always necessary in fact, if the office shed is only used occasionally and size rules are followed, there is no need for planning permission at all, however it's important to check before beginning the project. The need for planning permission varies around the country so contact your local council before committing to a back garden office.
Security
Using a shed as a home office means you'll likely be keeping valuable items like computers in there. It is therefore vital to have a top of the range security system. Two-locks on the front door with multiple locking pins is the first step. It is also worth adding a burglar alarm and security lighting. This can be an extension of the home system or be installed separately, either way it should be linked to the police and fitted by an approved supplier. Look for the NACOS badge.
**Utilities **
A home office needs electricity and an internet connection. These may seem complex requirements but can be added very easily. An electrician will be able to set up an electricity supply that is tied to the home one but solar panels could be used to make the office more sustainable. Make sure an accredited electrician is used. Internet can be easily added through a cable or a range extender and this is so simple that anyone could do it.
Interior
Most sheds aren't built to be sat in all year round, so insulation will need to be added to the shed. This can be simple Rockwool but sheets of foam are usually better. Either way it then needs covering, tongue and groove MDF is the simplest way to do this effectively and can easily be painted. Heating will make it a useful space throughout the year. Integrated heating can be very costly it would be better to use a convector heater or a panel heater that can be easily switched on and off as required.
**Décor **
In order to make a productive workplace the décor needs to be considered very carefully. The space should be lit well, clean and clutter free. Using LED spotlights will illuminate the right spaces and is a cost effective solution. Using light enhancing colours like white makes the space feel fresh and clean, which will increase productivity. Furniture is one of the hardest decisions. A desk is a must but it may be a better option to have one built in with integrated storage rather than a freestanding one. Choose a comfortable office chair and if there is space add some comfortable seating for breaks. Storage is key to keeping the space clutter free and using lockable storage will ensure any valuable documents are secure.
Having a home office in a garden will allow more work to be done from home and are inexpensive to install. These are just some of the considerations to be made before undertaking any work on this kind of project, having a detailed plan will make the building process much smoother.