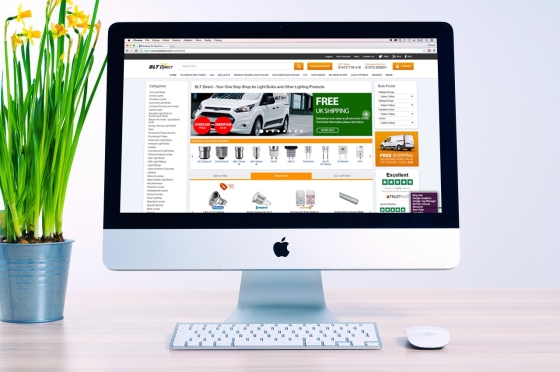 BLT Direct, one of the leading UK suppliers of lighting solutions, has burst into 2015 with a brand new website design, offering a whole new look and some excellent, streamlined features. With an overhauled navigation structure, a simplified checkout and a new skin, the site has been fully optimised and improved ready for another bumper year providing stellar lighting solutions to homes and businesses.
The new, super-sleek navigation menu means that it's easier than ever for users to find the bulb or lamp they need. From energy-saving LEDs to the more niche solutions like metal halide lamps and ceramic uplights, the menu offers easy access to all of the lighting categories that BLT Direct has on sale.
The brand new skin will firmly place the site at the forefront of e-commerce web design, with sophisticated features and search functions that optimise the navigation even further. The finishing touch is a simplified checkout, which makes it even easier for customers to pay for the superb lighting solutions, manage delivery addresses, view invoices and track their orders.
Steven Ellwood, Managing Director of BLT Direct, says, "We analysed the old site in real detail to find out what was working for our customers and what could be improved. With our findings, we've revamped the navigational menu entirely, making it easier for customers to find the products they're looking for. The new checkout is a great addition, simplifying the whole process, and the new skin gives the site a stylish, slick feel."
He adds, "At BLT Direct, we constantly strive to ensure that we're catering to the needs of our customers – and the website redesign is just one of many things we'll be doing in 2015 to offer an even better service. From new products to special offers, we have plenty more exciting announcements to come over the course of the year, which are sure to benefit our wide client base."
The new site and layout has been subject to the same stringent security checks and verification processes that the old site went through. Having been tested by the world's premier online security company, McAfee, customers can rest assured that there are absolutely no malicious links or malware on the site, there is no phishing detected and the site has a valid SSL certificate, protecting all sensitive details. The McAfee verification is updated every day, providing total peace of mind for customers who may be visiting BLT Direct to find an unfamiliar layout.