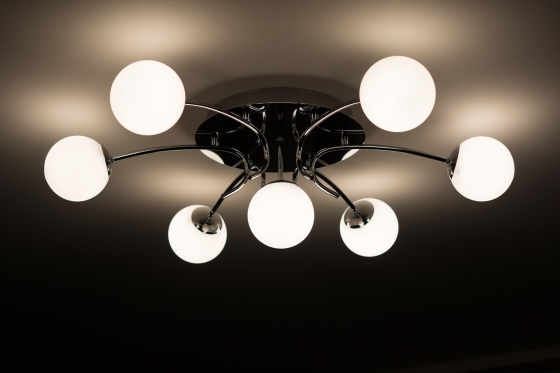 As we go about our everyday life, we often overlook the many types of light fixtures that are used in domestic situations. It is important that the lights used in a home setting are stylish and elegant, whilst also being able to house bulbs which will provide adequate light without consuming too much energy. BLT Direct, a lighting solution supplier based in the UK, have an exquisite range of domestic light fittings and fixtures which can help to make a house feel more like a home.
Ceramic uplights are a great way to provide light in a communal living space such as a living room or dining area. They can give any room a cosy, homely feel without imposing too much harsh lighting. The Acel Quarter Sphere Uplight With Glass Base requires a 60-watt GLS lightbulb (also available at BLT Direct) to illuminate it and comes unglazed and ready to paint should this be necessary. The contemporary design will modernise any living area and provide an elegant lighting solution for when an overhead light is simply too much. This ceramic fitting is available for just £32.58.
Bathroom lighting is often difficult to choose, with many regulations to think about and comply to regarding light fittings in bathrooms. BLT Direct offers a stunning selection of decorative and traditional pull cords available in brass, chrome or white finishes to fit any décor scheme. No bathroom is complete without a decent mirror and prices start at just £123.42 for a backlit mirror with energy-saving lightbulbs and protection from water spray and condensation. The range of barlights at BLT Direct is also varied and with their Zone 2 Splashproof IP44 rating they are a must for any bathroom.
Track lighting can be a contemporary way to illuminate a whole room or just bring attention to an accent or feature. BLT Direct has in stock a superb selection of track lighting, ranging from single spotlights to triple spotlights. This modern fixtures require a GU10 bulb, which come with a range of different bases unique to each fitting; it is always worth double-checking the bulb base a fitting will require before purchasing it. Made from either chrome or satin chrome, these practical fixtures can be manoeuvred to face any direction, making them a versatile and worthwhile purchase for any home. Prices start at just £13.16 for a single spot, with the triple spotlights on a round base at a budget-friendly £44.87.
To find out more and order online, visit Our Website
About BLT Direct:  BLT Direct are an online supplier of lighting solutions.  They provide a wide range of lighting products, as well as light fittings and lamp disposal services, and are committed to offering energy efficient solutions to meet a wide range of home and business lighting needs.