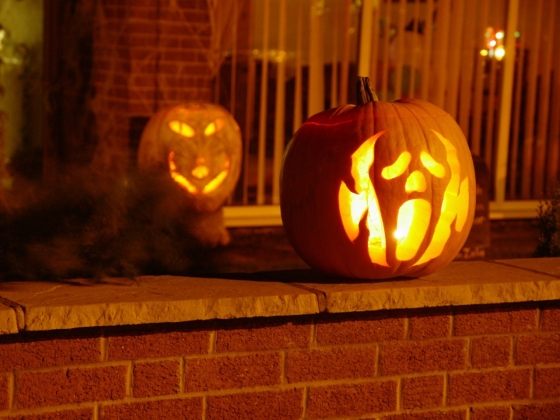 There are just weeks to go until the annual season of trick-or-treating, pumpkin carving and an abundance of fake blood, and BLT Direct is gearing up for this year's Halloween spectacular with a range of dramatic light bulbs to create spooky effects around the home or workplace. Whether hosting a party or simply looking for ways to make the event more exciting for trick-or-treaters, the carefully chosen selection of flickering candle bulbs and blacklights help to set the scene for the so-called witching hour, and help everyone truly get into the spirit of this lighthearted tradition.
Simply changing light bulbs is a great way to completely change the atmosphere of a room, and with LED GU10 Light Bulbs already being compatible with many of the existing fittings and fixtures around the home, switching them for coloured alternatives can help to create a truly eerie setting. Green and magenta clash perfectly and summon to mind images of zombies and ghost trains, while ultraviolet lights can use glow-in-the-dark capabilities to create spooky patterns on walls and ceilings. All of the coloured LED GU10 bulbs available from BLT Direct have a reputed lamp life of up to 50,000 hours, meaning that they will not only come in handy for this Halloween, but many ghostly celebrations for years to come.
Flicker Flame Incandescent Light Bulbs are particularly suited to creating atmospheric lighting, and the constant judder and shiver of these fake flames are sure to set anybody on edge this Halloween. These bulbs are available with a variety of different bases so no costly modifications need to be made to existing fittings to accommodate these spine-chilling lights bulbs, and they are particularly effective when the bulb is exposed. At just £3.36 per bulb, with an expected life span of up to 1,000 hours, they are a budget-friendly way to convert a standard room or corridor into a flickering passage of terror, and they will last for the entirety of the spooky season.
For those who want to get into the spirit of Halloween, but are concerned about the costly energy bills that they might be unpleasantly surprised with, there are energy-saving options that can turn any home or workplace into a veritable haunted house. The Energy-Saving Blacklights available from BLT Direct come in a variety of different wattages and are predicted to save consumers around £58.50 over the course of their life span. The special dark blue filter creates a truly macabre effect, and simply using one of these bulbs within a porch or hallway can give trick-or-treaters the sense that this house might be one to avoid in the future.
To find out more and order online, visit Our Website
About BLT Direct:  BLT Direct are an online supplier of lighting solutions.  They provide a wide range of lighting products, as well as light fittings and lamp disposal services, and are committed to offering energy efficient solutions to meet a wide range of home and business lighting needs.