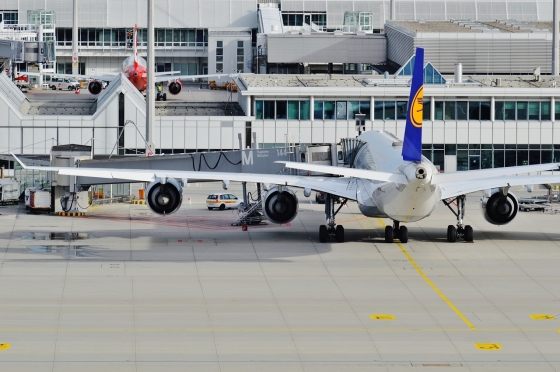 Heathrow Airport could be searching for experienced high-wire walkers to help them change some of the 120,000 light bulbs in their new terminal hangar, after it emerged that 60% of them have blown and all viable ways to replace them were deemed unsafe or unnecessarily risky. The terminal building, which is home to tens of thousands of light bulbs, will need to hire a specialist 'Cirque du Soleil-style' team if they are to re-lamp the entire ceiling of the departure lounge.
 
Heathrow planners now aim to affix environmentally-friendly LED light bulbs to the ceiling, to take advantage of the much-improved lifespan and to help to minimise the carbon footprint of the new terminal, which has been up and running for five years. With more than 6 in every 10 light bulbs currently installed in the terminal having reached the end of their life span, managers at the airport have decided to opt for a more long-lasting way to illuminate the area, to increase the amount of time they have before calling in another high-wire squad.
 
Steven Ellwood, Managing Director of BLT Direct, one of the UK's premier providers of LED lighting solutions to domestic and commercial clients, says, "Heathrow's decision to install energy-efficient LED light bulbs in their hangar will be a welcome one, especially if it takes such a huge upheaval to have them replaced when they start to reach the end of their life span. LEDs have incredibly long life spans, often lasting into the decades, meaning that the frequency of the high-wire reinstallation at Heathrow will be much reduced. LEDs are also incredibly efficient, reducing the overall cost of running the terminal whilst still providing departing passengers and airport staff with the light they need to do their jobs and pass through all airport security checks."
 
LED – or light-emitting diode – lamps are renowned for their incredibly long life span, and this makes them fantastic additions to any home or business, especially in places that are hard to reach. Tall hallways or landings that require stepladders to reach the light fixtures, or large communal spaces where the lighting fixtures are often very high are the best places to install LED lights, as they can then be left for many years without having to be maintained or paid attention to. This is to the great benefit of places like hospitals and schools, where high ceilings are often a feature and maintenance can cause disruptions, as well as shop floors and commercial spaces where attractive, flattering lighting must always be maintained.