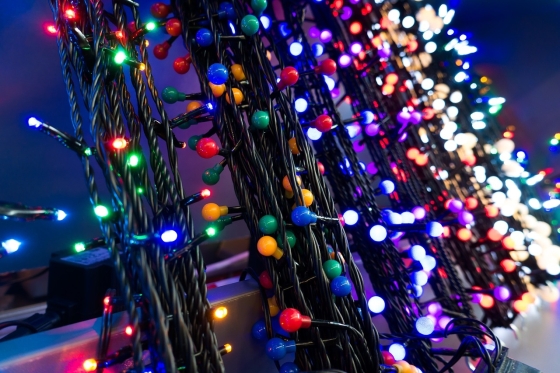 Artists such as Robbie Williams, McFLY, The Wanted and JLS have been confirmed to be switching on the public Christmas lights up and down the country in huge extravaganzas over the coming weeks. In some of the country's biggest cities, such as London, Manchester, Leeds, Bristol and Birmingham, some of the UK's biggest stars will be welcomed and will put on a spectacular show before they press the all-important button that switches on the festive decorations for the remainder of the Christmas period. Many people around the home might decide to host their own Christmas light switch-on over the coming weeks, as they complete their traditional decorative displays and turn them on for the first time. BLT Direct is a premier provider of lighting solutions that can outshine any celebrity switch-on ceremony, with low prices to fit festive budgets, and high-quality that will last for many winters to come.
One of the most popular ways to form the basis of a large display is to line windows, fences and other vertical surfaces with Snowing Outdoor Icicle Lights, which have an authentic Christmas look when turned to any of their different settings. Pulsating at different speeds or simply remaining static, these lights are perfect to boost Christmas spirit and their neutral white colour won't clash with more colourful elements of the display. These chains of lights come in sets of up to 720 bulbs, so they can practically cover the entirety of the outside of a house or other building, and they are perfectly appropriate for outdoor usage. Prices at BLT Direct start at just £29.99.
To bring a little Christmas cheer to the inside of the home and continue the theme of a display on the transition from outdoor to indoor, swapping some of the regular bulbs around the house with a Coloured GU10 LED Bulb is a cost-effective solution. These bulbs don't require any extra fittings or fixtures, and adding a warm red light or a warm yellow glow to the area around a Christmas tree, or in a hallway, can give a home a much more festive feel. These bulbs are also great for energy-saving; running costs compared to GU10 halogen bulbs are down by around 80%, so the electricity bills need not be sky-high this Christmas season. The GU10 LED bulbs start from just £5.99 at BLT Direct.
Not everyone has the time to produce a show-stopping lighting display at Christmas, but there are more subtle ways in which the festive season can be referenced in the home. Candle Bridge Arch Lights are a wonderfully understated way to decorate a mantelpiece, a windowsill or a dining table this Christmas. There are plenty of different varieties to choose from, in varying colours, shapes and sizes, but all of them are a stylish and simplistic way to add to festive decorations. Prices start at just £9.90 for a seven-bulb arch.
To find out more and order online, visit Our Website
About BLT Direct:  BLT Direct are an online supplier of lighting solutions.  They provide a wide range of lighting products, as well as light fittings and lamp disposal services, and are committed to offering energy efficient solutions to meet a wide range of home and business lighting needs.