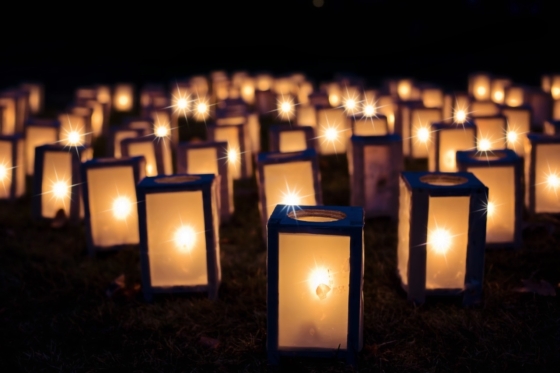 The Danish influence continues to dictate our lifestyle and design trends here in the UK. While the summer has seen us follow its example of clean lines and minimal styles, as we head into winter the sense of 'Hygge' is becoming popular throughout the nation. Described as the feeling of taking pleasure from life's simplest moments, this is visually represented by creating a simple yet cosy atmosphere in the home, sending the use of candles soaring to create that welcoming glow. However, as research has revealed this trend based around wellness may in fact be detrimental to health BLT Direct, a leading lighting distributor, is urging those that seek this sense of happiness to consider switching to other solutions such as LED candle bulbs to create the same mood boosting effect.
While the fire hazard involved with lighting many candles is an obvious risk, professors at the Technical University of Denmark and the Imperial College London have warned that there may be other, unforeseen dangers. They suggest that burning excessive amounts of candles could lead to lung damage and other related problems due to particles 'polluting' the air indoors, entering the lungs and bloodstream. While this revelation may lead to many thinking twice about lighting their next wick, switching to LED candle bulbs can create the same, natural glow without the risk of respiratory problems.
Steven Ellwood, Managing Director of BLT Direct said "The winter season brings with it a desire to stay indoors, 'hibernate' and really make a home feel cosy – it's no wonder that the Hygge trend is experiencing popularity during these months. However, as these risks have been revealed we urge any 'Hygge- junkies' to consider alternative lighting solutions to the conventional candle. Our large range of LED candle bulbs come in a variety of shapes, sizes and cap fittings, making them easy to place in any existing light fixtures to immediately change the feel of any room. What's more, they can be dimmed, come in flickering styles and glow in many different shades, creating a truly realistic and safe candle effect at the flick of a switch."
With a range of standard shape candle LED bulbs quickly becoming a best seller with its customers, the extensive collection of bulbs from BLT Direct also covers more specialist styles. Flame tipped LED candle light bulbs come in a realistic shape, carefully crafted to mimic an open fire while the flickering range, manufactured by Prolite provide an authentic solution at an affordable price of just £5.61 per bulb.