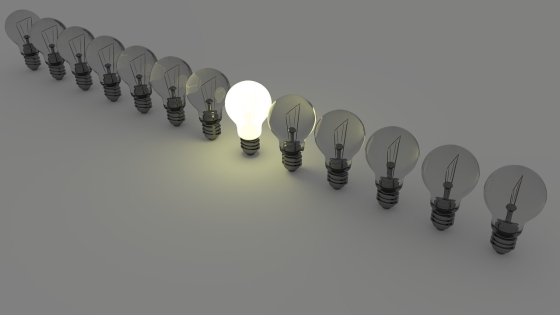 With incandescent light bulbs slowly being phased out by the government in an attempt to cut back on emissions, businesses and households alike are being encouraged to stock up on energy-efficient bulbs to replace them. But one of the aspects of choosing a light bulb which confuses many people, and has led to them putting off the switch from halogen to eco-friendly, is choosing the correct base. Everyone who considers themselves to be an expert at DIY has found themselves with the wrong bulb for a certain fixture before, and with a whole new range of bulbs now on the market, it can be even more difficult to ascertain which the correct ones are for a certain fitting. BLT Direct is a UK supplier of many lighting solutions, and their huge selection of light bulbs ensures that all bases are covered – literally.
The Edison screw is probably one of the more familiar light bulbs to many. Named after its inventor, Thomas Edison, there are actually many different sizes of Edison screw base, so it worth verifying the fixtures for exact measurements before going on the hunt for energy-saving bulbs. As the name might suggest, the Edison base screws into the fixture and are used the world over in many domestic settings. The Energy Saving GLS 11-Watt bulb comes with an Edison screw base, and the standard shape ensures that it fits the vast majority of fittings and fixtures around the home. These environmentally friendly and long-lasting bulbs are available for just £3.99 each from BLT Direct.
Bayonet caps are another very familiar base, with the easy-to-use 'push then twist' action used to attach it to the light fixture. Most commonly used for mains voltage lamps, there are occasionally some variants, such as the 3-pin bayonet cap, but for the vast majority, the standard basic bayonet cap, known as a 'BC', will serve many purposes. As with the Edison screw, the bulbs with a 'BC' base are available in two sizes, 22mm and 15mm, so it is worth checking the measurements of the fixture before purchasing. The GLS 15-Watt Energy Saving Bulb is fitted with the popular bayonet cap, and also available for just £3.99 each.
LED GU10 bulbs are now considered to be a direct replacement for halogen and a great alternative to incandescent bulbs, which will be completely out of production within months. Generally fitted with a twist-and-lock base which is similar to a bayonet cap, these energy-saving bulbs offer a much longer life span and great savings on electricity in the long run. Ceiling lamps will generally accommodate a GU10 bulb perfectly, and with inviting warm white and daylight shades to choose from, they are a wise investment at just £4.99 each from BLT Direct.