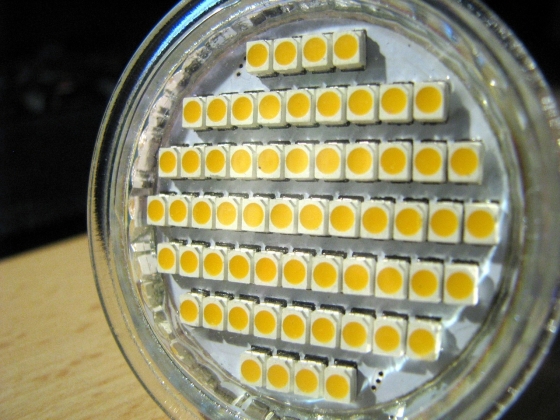 One of the most popular light bulb in recent years has been the halogen GU10 originally made by Sylvania. This lamp came on to the market as a genuine replacement for the low voltage dichroic halogen lamp about twelve years ago. Up until that time downlighters required the dichroic lamp and transformer arrangement which was costly, the GU10 was a 240 volt replacement which lasted around 2500 hours and provided a stable halogen light source for kitchens, bathrooms, hallways and commercial display applications. Hundreds of thousands of these are fitted around the UK and until the recent energy saving push were eating electricity by the kilowatt.
The release of the compact fluorescent version started the ball rolling and it wasn long before a 50 watt equivalent was available using only 11 watts. The development in LED technology has been a little slower however a lamp has been available that is approaching 40 watts but these lamps were still very expensive.
A recent launch of the Envirolight LED GU10 is making an impact on the market this lamp only uses 2.3 watts of electricity and is very reasonably priced at £9.95 + VAT. This lamp has a rated lamp life of 25 years based on 3 hours usage per day. Also this lamp will give you savings of over 90% on electricity running costs.
For a comprehensive range of energy saving light bulbs in a variety of styles, visit Our Website where you can order online and benefit from special offers.
About BLT Direct
BLT (Bulbs, Lamps and Tubes) Direct makes light work of buying light bulbs online in the UK and Europe. They specialise in supplying lamps, light bulbs and fluorescent tubes. Brands include Osram, GE, Sylvania, Omicron, Pro lite, Crompton, Ushio and Philips.