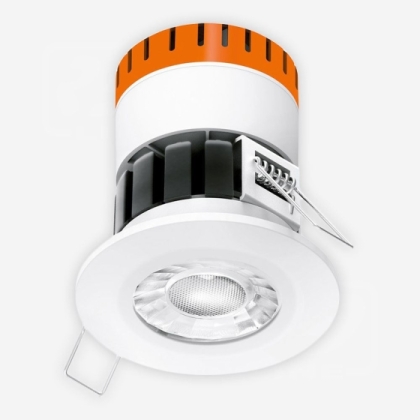 The lighting retailer BLT Direct has added a new selection of IP/Fire rated LED downlights to its online range. The additions, by Enlite, add yet more choice, for those searching for cost effective, high quality downlights.
Steven Ellwood from BLT Direct said, "The two new IP/Fire Rated downlights from Enlite are very strong and highly rated products. They come in warm and cool white colours, have an average life of up to 25,000 hours and are fully dimmable. These downlights may be price effective but they do not compromise on lumen output as they still offer 565 lumens which is brighter than a standard 50 watt halogen gu10."
The Enlite 8W Warm White Dimmable LED Fire Rated IP65 Downlight is designed to be installed quickly and is supremely energy efficient. It can be used in the place of traditional LEDs, replacing the energy-hungry incumbent with a low energy version for immediate savings. Over its lifetime, Enlite estimates that this product will save users a total of £156.00. In addition to its green credentials, it boasts IP65 and Acoustic ratings plus fire protection. The warm white glow is rated at 8 watts and has a 60 degree beam angle. 
Also new is the Enlite 8W Cool White Dimmable LED Fire Rated IP65 Downlight. Like its warm white counterpart, the 8W cool white LED by Enlite features a low glare multifaceted Enfiniti 565 lumens lens and offers a 60 degree beam angle.