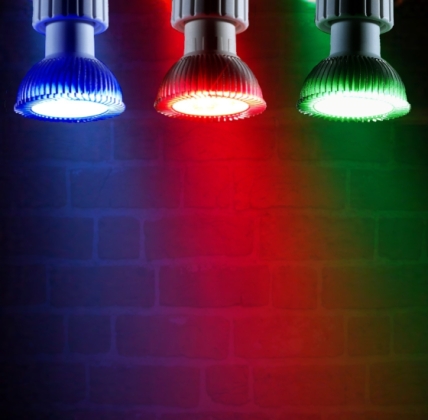 The UK's go-to lighting supplier is helping Brits light up their lives with the roll-out of the all-new MiniSun 3W Remote Controlled Colour Changing LED GU10 Light Bulb. Sold by BLT Direct, the next generation product is packed full of features, including the choice of 16 different colours. From bars and clubs to bedrooms and home theatres, MiniSun's exciting new LED product is set to make an appearance in homes and businesses across the nation.
Steven Ellwood, Managing Director of BLT Direct says "At BLT Direct we're always looking for cutting-edge new products to offer our customers. When MiniSun introduced us to its all-new colour changing remote controlled bulb, we placed an immediate order. We've already filled an influx of orders and expect more to roll in as word gets around."
Using the handheld remote control, users can prompt the bulb to dim, flash, strobe and fade. With 16 colours to choose from, mode can be set to static or colour changing for a dynamic spectrum of light. From green, blue and yellow to red, purple and pink, MiniSun encourages customers to get creative! The ability to control multiple lights within a four metre range also allows users to create a stunning Technicolor effect at the touch of a button.
With an incredible 20,000 hour lifespan and an energy consumption rate of just three watts, MiniSun's kaleidoscopic new product is amazingly eco-friendly. The use of a 220-240V LED bulb also gives it a significant edge of efficiency over its compact fluorescent and incandescent counterparts. On average, LED light bulbs use 85% less energy than conventional bulbs. This helps to reduce the carbon footprint as well as slash energy bills.
Mr Ellwood adds, "As Britain's leading online lighting providers we are committed to sourcing environmentally-friendly products that are as energy efficient as possible. While some novelty lights chew up electricity like there's no tomorrow, MiniSun shines the spotlight on engineering innovative products that offer customers the best of both worlds."
Manufactured by leading bulbs and lighting brand MiniSun, customers are guaranteed a premium quality product. Every order comes with a two year manufacturer's warranty which offers buyers complete peace of mind that they are purchasing a product that's built to last.
The MiniSun 3W Remote Controlled Colour Changing LED GU10 Light Bulb is currently on sale from BLT Direct for the special introductory price of just £13.50 excluding VAT. Customers enjoy a 32% saving off the usual RRP.