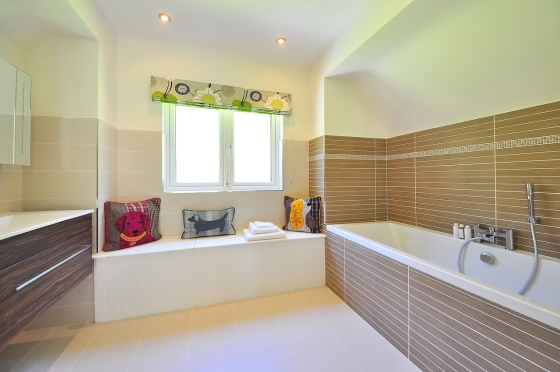 The bathroom is the most difficult room in the house for lighting schemes. It demands flexibility – it must be bright enough for checking appearance and applying creams, lotions and make up but should also offer up a soft glow for bath time relaxation.
"A bathroom normally houses a huge range of reflective surfaces," said Steven Ellwood, Director of BLT Direct. "There are mirrors and titles, steel towel rails and other accessories, porcelain appliances and glass shower doors, giving lots of opportunity to create interesting effects and make the room appear lighter and brighter than is perhaps the case."
In order to introduce flexibility in to the bathroom lighting scheme, it's worth installing a series of downlighters to introduce ambient, not blinding light to the room. BLT Direct offers a range of low voltage and energy saving downlighters in brushed chrome, chrome, brass and white surrounds.
Introducing a number of downlighters will cast pools of light on the wall area below the fitting, making them an ideal choice close to reflective surfaces such as glass and water. A false ceiling can be installed in the bathroom to hide the wires, ensuring beams of light and no unsightly wires.
A second interesting solution to add visual interest to a dingy bathroom is to introduce a mirror with surround lighting. BLT Direct offers a range of bathroom mirrors including the Egglo Mirror which adds a touch of elegance to an otherwise casual space and will make a feature of a forgotten wall or unused space. Purchasing a mirror specifically for the bathroom will ensure the fixtures and electrical fittings are splash proof. Surround lighting makes the accessory a useful addition to the bathroom as lights can be turned on for more detail when shaving or applying makeup.
While providing the exact amount of illumination necessary to apply makeup and check appearance without the detraction of harsh lighting, lit mirrors can be fitted with energy saving bulbs, making them an effective and efficient solution.
For a comprehensive range of bathroom lighting and energy saving light bulbs in a variety of styles and brands, visit www.bltdirect.com where you can order online and benefit from special offers.
About BLT Direct
BLT (Bulbs, Lamps and Tubes) Direct makes light work of buying light bulbs online in the UK and Europe. They specialise in supplying lamps, light bulbs and fluorescent tubes. Brands include Osram, GE, Sylvania, Omicron, Pro lite, Crompton, Ushio and Philips.