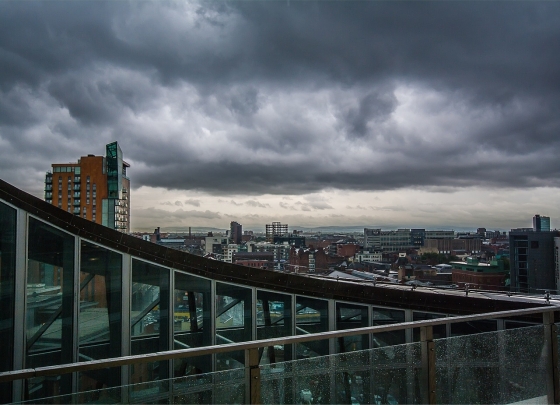 Manchester City Council launched their Christmas lights with a difference this week, in a star-studded ceremony that included X Factor winner James Arthur and a whole host of local stars. But the real star of the show were the LED Christmas lights themselves, which have come at the price tag of £900,000 and form part of the council's plans to illuminate the city all year round.
 
The cutting-edge multi-coloured lighting has been wowing the crowds in Albert Square around the Town Hall, an iconic Grade II listed building, in what council bosses believe is a national first; no other city boasts lights that are so energy-efficient and will be used for such a long period of time. The lights are incredibly high-tech and low-energy, and in the coming weeks there will be fibre-optic and energy-saving LED lights hanging above the heads of shoppers, beaming out from city fountains and illuminating the city's most famous structures.
 
Steven Ellwood, Managing Director of BLT Direct, a UK supplier of Christmas LED lights and a huge variety of other energy-saving solutions, says, "The move by Manchester City Council to decorate the entire city with year-round LED lights is a strong one, and one that will certainly enhance the appearance of the area. The success of this project will hopefully pave the way for more cities, as well as homes and business, to adopt high-tech, low-energy bulbs for their decorative displays in the future."
 
Many planning to decorate their home in an extravagant fashion worry about the overall cost, but town hall bosses in Manchester have predicted that their initial outlay of £900,000 will actually cut their five-year lighting budget by 33%; there will be no installation, removal or storage fees, and the lights themselves are incredibly energy efficient, cutting power costs significantly. 
 
The council also have lofty ambitions for their lights in future years. When the city's two famous football teams, Manchester United and Manchester City, clock up a win at the weekend, there is plans to light the entire city in the corresponding red or blue. St Patrick's Day will see Manchester lit up a celebratory shade of green, and the Chinese New Year celebrations will turn the city into a veritable festival of light. There are even plans to allow the public to be able to control the lights themselves, with specially constructed touch-screen stations positioned around the city.
 
If this is a glimpse of the future for all decorative lights, getting a head start and investing in the latest technology for this year's home display is probably a step in the right direction, but perhaps offering the kids the opportunity to control the Christmas lights can hold off until they're older.