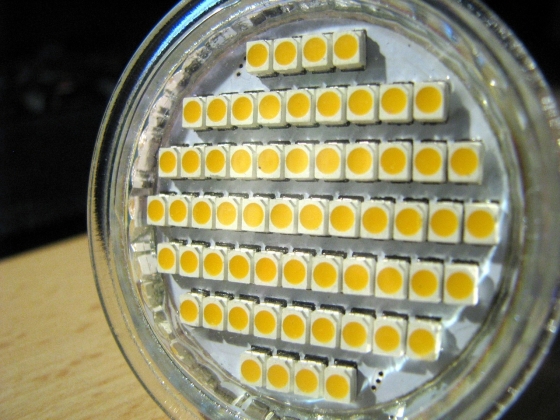 BLT Direct, one of the country's foremost providers of lighting solutions, has released an extensive new range of GU10 light bulbs, designed specifically to create perfect illumination levels in and around the home. The High Output LED GU10 light bulbs range from 4.5 watts to 6 watts and are considered to be the perfect replacement for their predecessors, the standard halogen GU10 bulb, which are increasingly being seen as unfavourable, old-fashioned and inefficient.. Available as single bulbs or within boxes of ten, these next-generation bulbs offer the highest levels of illumination with the lowest energy consumption and can be used in all domestic situations.
The LED GU10 light bulbs consist of three high-powered LED lights, all inside one frosted cover, creating an incredibly high level of illumination. The principal role of a GU10 LED light bulb is to save energy. Using a maximum of 6 watts per bulb, these bulbs far excel the credentials of their older counterparts, the halogen bulbs, which use around 50 watts of energy to create the same amount of, if not less, illumination. A 4.5 watt LED GU10 light bulb is proven to produce the same amount of light output as a 42-watt halogen GU10 bulb. The direct comparisons between the two bulbs see savings of up to 90% on energy consumption, and the contrast is even more stark when this is converted into basic electricity costs per household; using average electricity rates and the standard life span of an LED GU10 bulb, it is calculated that one bulb can save a household around £135.00 in energy bills over the course of its life span. Their life span averages at around 30,000 hours per bulb, which, if used for around 6 hours per day, would last for more than 13 years in total.
Versatility is also among the advantages of these brand new bulbs. The two-pin base means that these bulbs are direct retrofit bulbs, and they will plug straight into the corresponding existing fittings already positioned around the home. They require no transformer or LED driver, and are ready to use from the word 'go'. This makes them perfect for all existing fittings and fixtures around the home, be it in a bathroom or a study, a kitchen or a garage. The bulbs are available in two shades, Warm White and Daylight, both of which offer attractive, cosy illumination ideal for creating a warm and inviting domestic environment. A basic 4.5-watt High Output LED GU10 light bulb from BLT Direct starts at just £7.99, with boxes of 10 available for £74.99.
To find out more and order online, visit Our Website
About BLT Direct:  BLT Direct are an online supplier of lighting solutions.  They provide a wide range of lighting products, as well as light fittings and lamp disposal services, and are committed to offering energy efficient solutions to meet a wide range of home and business lighting needs.