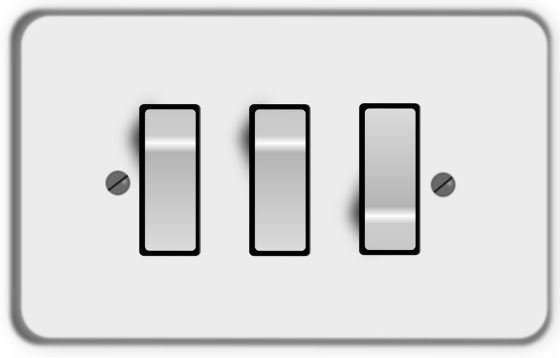 Britain's number one lighting solutions supplier has unveiled an extended range of light switches and sockets. Rather than settle for run of the mill, 'one size fits all' designs, BLT Direct customers can now shop matching products from leading manufacturers with styles to suit all interiors.
Steven Ellwood, Managing Director of BLT Direct said, "We're committed to offering our customers exceptional choice and this extends to our range of switches and sockets. As well as classic white gang socket designs we also stock a variety of unique finishes and functions that add style and practicality to any space. Sockets are available to match, so those decorating an entire room or series of rooms can choose the same design and create a seamless look throughout."
Those searching for simple, classic pieces are well catered for with a series of white designs from Knightsbridge. Brushed chrome and black nickel finishes are also available.
An expanded selection of single, double and triple dimmer switches are ideal for creating mood and ambience while classic gang light switch boards can be used easily in almost any environment. All come with a 15 year warranty for peace of mind.
When safety or functionality call for concealed outlets, the range of surface mounted, recessed and pop up sockets also offers a wider choice than ever before. Designed for use with cupboard and worktop applications, the Knightsbridge Under-cupboard/Worktop 13A 2 Gang Unswitched Double Socket offers cable entry from the floor or rear. Featuring both a gang socket and a duo of USB chargers, the Knightsbridge Recessed 13A 1 Gang Switched Socket with Dual USB Charger is a modern yet reliable solution for above counter top applications.
Electronic devices are now a key feature of everyday life, with many requiring USB chargers. For those wanting to install the ultimate contemporary charging solution a USB socket is a must. As well as traditional three prong electrical gang sockets the new boards also feature intelligent USB charge functionality. Great for iPhones, tablets, cameras and other USB charge devices.
When there's a premium on socket space BLT Direct extension leads turn a single outlet into a multi-purpose hub. The cleverly designed Knightsbridge Gang Surge Protected Towers are both safe and unobtrusive while the traditional horizontal designs can be easily slipped into any space.