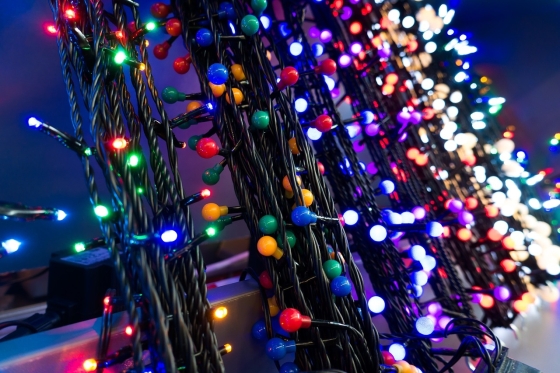 With November well underway the countdown to Christmas is well and truly on. With just a few weekends left before the tree goes up and the house is trimmed, now is the ideal time to prep an outdoor display with exterior Christmas lights from BLT Direct.
The lighting retailer has added a number of new styles and ranges to its festive Christmas lights range. Options include nine types of lights ranging from simple string fairy lights to coloured star tree light bulbs.
For those who plan to extend their festivities to the garden with an outdoor display for the Christmas and New Year period, BLT Direct's Christmas solar lights sets provide everything needed to turn on the seasonal cheer in a single handy kit. Perfect for adding some sparkle to trees, draping around the edges of a pergola or shrouding shrubs, the Blingstring Economy Solar Fairy Lights are quick and easy to set up. Part of the LED light range which means the bulbs are exceptionally long lasting, there are 50 and 120 bulb kits to choose from. Each comes with a solar panel and cable – simply place the panel, arrange the lights and then sit back and enjoy. Prices start from £10.49.More extensive outdoor lighting designs will find the Everbright Premium range of solar powered fairy lights indispensable. Kits include a choice of colour and number of lights and can be accessorised with assorted attachments including stars and flowers.
Quick and easy outdoor Christmas illumination comes in the form of BLT Direct\s snowing outdoor icicle lights which are perfect for adding an instant touch of seasonal magic. The icicle lights are controlled by remote with a choice of eight different pulsating settings and one constant setting, all of which are energy friendly thanks to the use of LED light bulbs which offer a more eco conscious approach than traditional incandescent bulbs. Thanks to their long life and low energy use, they are ideal an ideal festive decoration for any home or business exterior. Prices start from £29.99.
Steven Ellwood, Managing Director of BLT Direct said \Many homes and businesses get into the seasonal spirit by decorating the exterior of their premises so we really recommend that those who are keen to add outdoor lighting to their property start to plan ahead now. With just a few weeks left until Christmas ordering outdoor lights is a great way to get organised and plan ahead. We have a wide range to choose from.