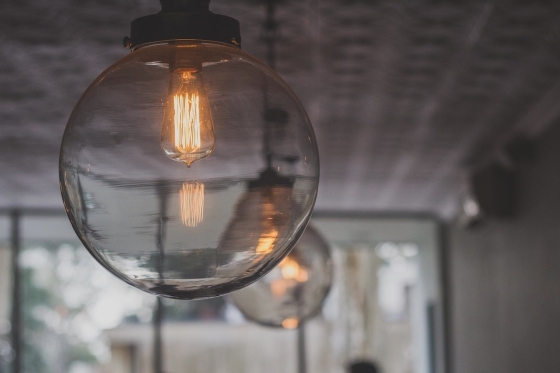 The invention of the incandescent light bulb marked the start of not only a lighting revelation but the journey to find a practical long term solution to lighting both the home and place of work, today that journey continues as manufacturers continue the battle to find energy saving alternatives at a much lower cost than previously achievable, but where will that journey end?
Developed in 1809 by an English chemist, the earliest form of the incandescent light was developed by Humphrey Davy, who used a high power battery to induce a current between two charcoal strips, which in turn produced a incandescent light known today as the arc lamp.
In 1820, Warren De la Rue took this knowledge to then make the first known attempt to produce an incandescent light bulb. He enclosed a platinum coil inside an evacuated tube and passed an electric current through it.  Although this design was effective, the platinum coil was extremely expensive, making it impractical for mainstream use, so it was back to the drawing board!
It was then down to Thomas Alva Edison to turn this earliest invention into something the world would recognise as the very first light bulb in 1879.  It was from here on that practical lighting was introduced to the world and homes throughout the world began to purchase this sought after invention.
Today that journey continues.  With the phasing out of the traditional shaped bulb by British Government, comes a new wave of developments for this centurys most popular household accessory.Low energy light bulbs are today the bulb of choice and many leading supermarkets and independent retailers such as BLT Direct are striving to provide energy saving bulbs at the lowest possible price- especially in the wake of the credit crunch.
Lighting is now used to be industry specific, to light up a garden area, create a certain mood or even given as a gift. Who would have thought that such a basic idea would revolutionize the way we would not only live our lives but view everything around us?
For a comprehensive range of garden and energy saving light bulbs in a variety of styles, visit Our Website
BLT Direct has been a leading online supplier of light bulbs, lamps and tubes in the UK and around the world since the early days of the Internet. Our website provides instant access to almost 10,000 products including Fluorescent Tubes, Incandescent Light Bulbs and Light Fittings.
Our exclusively online business allows us to provide our huge range of products to our customers at exceptional prices from high quality manufactures delivered to your door quickly and efficiently.