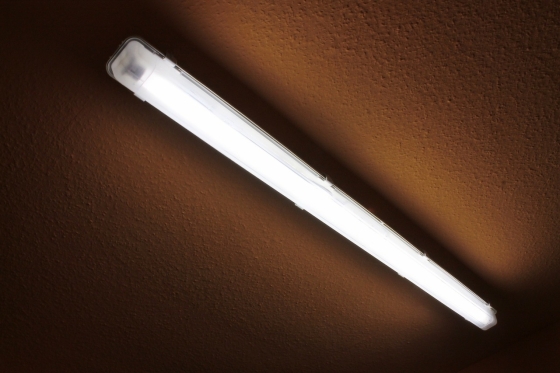 Illuminating harsh spaces is made significantly easier this month with the introduction of weatherproof fluorescent fittings into BLT Direct's comprehensive range of lighting solutions. Robust, heavy duty and built to endure the toughest of conditions, the anti-corrosive fluorescent fittings are ideal for use in arduous industrial and commercial applications.
Every product in the all-new T5 weatherproof fittings range is manufactured using a high strength glass reinforced plastic body supported by a heavy duty frame. A white coated metal gear tray is also attached to the body to give fittings extra durability while a polycarbonate injection moulded diffuser actively defends the internal fitting against destructive elements. The result is an ultra-reliable IP65 rating which offers total protection from dust ingress and low pressure water jets from any direction.These state-of-the-art design features are engineered to help the fittings resist a variety of harsh stimuli including corrosive materials, acid, moisture and flames.
Steven Ellwood, Managing Director of BLT Direct said, "Equipping industrial and commercial spaces with adequate lighting solutions is critical to maintaining on-site health and safety standards. Many site managers fail to realise that without stimuli resistant fittings the quality and longevity of lighting fixtures is quickly jeopardised, along with the safety and wellbeing of employees. Our new T5 weatherproof fittings have been specially selected for use in harsh environments and are without a doubt the most robust and resistant lighting solutions on the market."
The series of board style luminaires have gland entry points at both ends as well as on the back of the body. This gives users the flexibility to control the lights using a range of methods including local, remote wired or wireless intelligent systems.
Customers can choose from a variety of wattages to suit an array of different scenarios. At present the range includes 14W, 28W, 35W, 49W, 54W, 56W, 70W, 80W, 98W and 108W fittings. All fittings are coated with a light grey finish which lends itself to every interior.
For customers on the search for the definitive T5 weatherproof fittings solution BLT Direct offers innovative emergency versions which continue to function during power cuts. The fittings are equipped with battery powered technology that maintains illumination for an impressive three hours after power failure. The emergency specific products are available in the same dimensions and the equivalent wattages of the standard versions.
All customers placing orders of over £45 enjoy free delivery. This is a fantastic opportunity for industrial and commercial businesses to bulk buy T5 weatherproof fittings and ensure that on-site health and safety meets the highest standards at all times.