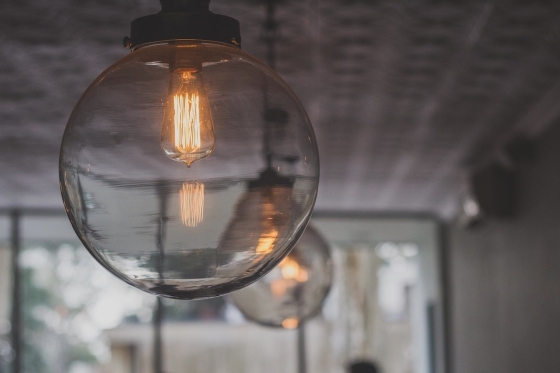 There are thousands if not millions of different light fittings out there, they can be beautiful pieces of art or simply functional but the amount of choice means it isn't as straightforward a decision as you might think. Simplicity is key in modern interior design, which partially explains the current trend for minimalism in lighting. Decorators and designers are both going back to bare bulb lighting in their droves - these dangling lights look fantastic and provide a lot of light but there are several other reasons to use them.
Affordability
Minimalist design should come with a minimalist price tag too. Bare bulbs are exceptionally cost efficient; all you need is a bulb and the cable. The money you save could be used to hang a cluster of them and create a chandelier effect. They look just as good hung in a row and providing light over a larger area.
Versatility
These lights may usually be associated with an industrial or even steampunk look but with a bit of planning they can actually tie in to lots of other styles. Use colourful cords and hang them in an interesting pattern to inject some fun and personality in to your space. You could also add a touch of intrigue by using coloured bulbs or even specialist paints that can be applied directly to the bulbs themselves.
Space Saving
Some light fittings are large, taking up a lot of space and dominating as a focal point. Lamps on tables and desks can also make a home look cluttered. With exposed bulbs, you can maintain the standard of lighting but you will also keep valuable surface space.
Energy Efficient
The general assumption is that these bulbs have to be incandescent but nothing could be farther from the truth. New LED bulbs like LED squirrel cages and LED filaments are a perfect replacement. These add intrigue, shape and create interesting light patterns, all while also being incredibly energy efficient.
Easiness
Simple hanging lightbulbs that are exposed are also incredibly easy to fit. There are no elaborate fixtures or installation to grapple with. All you need is a couple of hooks on the ceiling and wires cut to the length you desire. You probably should get an electrician to install them but this is a quick job that will not cost a lot of money.
Do you think bare bulbs are attractive? Share your thoughts on our social media pages and in the comments.