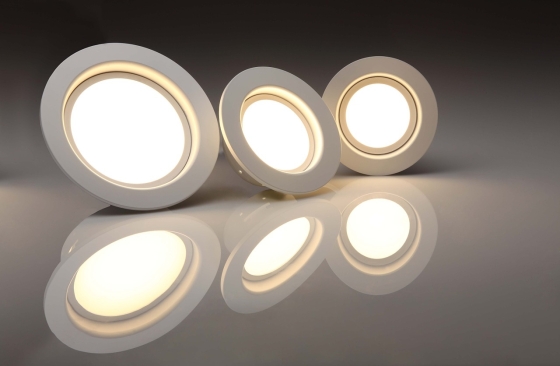 The early months of the year are traditionally strong months for holiday bookings with families, friends and couples attempting to stave off the winter gloom and give themselves something to look forward to. When booking holidays there are a number of things that should be considered besides the holiday itself. Getting someone to look after the dog or feed the cat may be troublesome, but protecting a home from burglars whilst away is a simple task. Lighting timers are a great way to make it look as though someone is home when the property is empty, although this does mean that lights will be left on for long periods of time; especially those on landings or in hallways. Not wanting to return from holiday to discover a shockingly large electricity bill, kitting out the house with energy-saving light bulbs not only relieves pressure on the wallet but plays a part in helping the environment too.
The Energy Saving GU10 Light Bulb is generally considered to be one of the best alternatives to the standard halogen bulbs. They give off the same amount of light as their incandescent predecessors and they manage to save large amounts of energy in the process, perfect for times when they will be left on for long periods of time. The savings on electricity can reach up to 80% and prices start from around £3.99, which makes them ideal for placing in hallways or on landings whilst away on holiday.
The other most popular way to replace energy wasting halogen bulbs is to use Energy Saving GLS Bulbs. Like the GU10s, these are considered to be the direct replacements to the older bulbs and fit straight into the lighting fixtures that were vacated by the older models. Their Edison Screw or Bayonet Cap bases are compatible with the most prevalent lighting fixtures in the UK, so it is easy to simply switch from energy-wasting to energy-savvy without having to rewire any fittings or replace any bulb holders. GLS bulbs are inexpensive and environmentally friendly, with similar energy-saving credentials to the GU10 bulbs. They come mainly in the familiar 'bulb-like' shape that many people are used to, and are available in different colour temperatures so the aesthetic of the home need not be altered by a switch to energy-efficiency.
Lighting timers can also be used in conjunction with dimmable energy saving light bulbs. Rather than blasting a bulb at full power for long periods of time whilst the homeowners are away, they can simply set their bulbs to turn on at a much dimmer brightness using even less energy and still giving the illusion that people are home. A great way to keep up the impression that the house is occupied and keep potential criminals at bay, the use of dimmer lights during the evening is a more convincing image for the observant burglar than a house full of bright lights.
To find out more and order online, visit Our Website
About BLT Direct:  BLT Direct are an online supplier of lighting solutions.  They provide a wide range of lighting products, as well as light fittings and lamp disposal services, and are committed to offering energy efficient solutions to meet a wide range of home and business lighting needs.