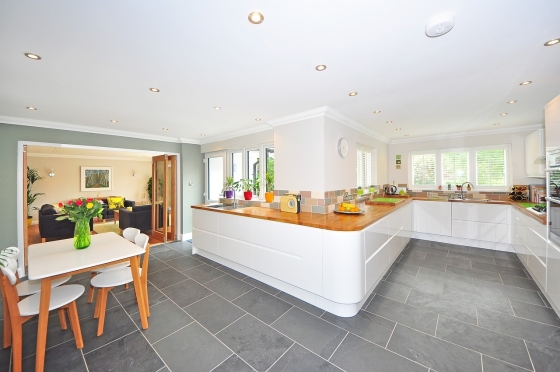 If youre a landlord or tenant about to move into a new property, the Energy Performance Certificate (EPC) will likely be looming large. Now mandatory for all properties being bought or leased, the certificate rates the homes energy efficiency levels on a sliding scale from A (very efficient) to G (very inefficient). A low rating can affect the homes resale value and the rates commanded from tenants.
In order to make a rental property or house bought specifically for leasing further down the line as attractive as possible, there is one simple action that can contribute towards a more efficient rating - install energy efficient lightbulbs throughout the house. Energy efficient lighting can be used in every part of the home and with the huge range and expert advice available from the energy saving lighting experts BLT Direct, swapping out energy hungry incandescent bulbs for eco-friendly counterparts like the GU10 is the work of minutes.
Halogen GU10 bulbs are perfect for the kitchen and can be used to transform the cooking and food preparation areas in to the hub of the home. Combining colours and styles can personalise the lighting design - try fluorescent tubes for the main lights and then discreet under cupboard light bulbs for a more relaxing hue at meal times. Used as downlighters, a GU10 light bulb in a kitchen setting can last anything from 2000 to 5000 hours.
For the bathroom, replace harsh, dated overhead lights with any one of the range of IP65 rated bathroom downlighters, available in brass, white, chrome and brushed chrome. Available in low voltage and GU10 versions, the lights add a stylish touch and can transform the bathroom into a soothing sanctuary at the end of a busy day.
Energy saving light bulbs consume less power, emit less pollution and make less of an impact on the electricity bill. With a longer lamp life they also need replacing less, which makes them a much more economical choice all round. Visit the BLT Direct Website for more information on choosing energy efficient lighting for your home or workplace. Also stay up to date with us on twitter
About BLT Direct:  BLT Direct are an online supplier of lighting solutions.  They provide a wide range of lighting products, as well as light fittings and lamp disposal services, and are committed to offering energy efficient solutions to meet a wide range of home and business lighting needs.