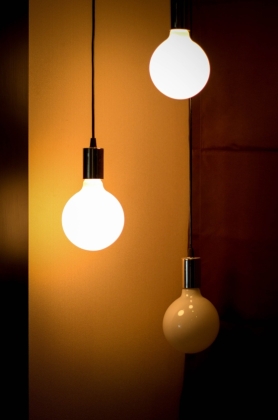 A shabby chic or industrial vibe has been spreading through homes, bars and restaurants for the last few years, with consumers loving the laid back and effortlessly cool feel this trend gives off. While distressed wood, soft furnishings and bare walls might be what springs to mind at first, the right lighting plays a part in creating the perfect atmosphere for this look.
The popularity of the industrial look means that classically designed bulbs, such as the squirrel cage, have been making a comeback, popping up in homes and consumer outlets.
The shape of the bulb and warm-glowing filament means that the squirrel cage is a stylish addition to any room, particularly when its paired with a vintage or shabby chic look. The glow from the filament can have a calming effect on a room that contrasts well with furnishings and décor that has an industrial quality.
While traditionally these vintage light bulbs would have been incandescent, you can now purchase LED versions giving you a choice between which you use. While LEDs cost more than incandescent bulbs they last much longer and save energy, meaning that in the long run LEDs save consumers money. Typically squirrel cage bulbs give off a white light but now retailers do sell some coloured options, such as amber, pink or gold, that you could use to further complement the look and style of a vintage inspired room.
Light fittings can also be used to continue a shabby chic theme. Clear-finished and open fittings are great for ensuring you add lots of light to the room and will show off the vintage bulb perfectly. Choosing pendant lights and fitting made of metal can also add to a style with an industrial edge.
Most trends come and go but the shabby chic look has remained popular for years and interior designers are still putting together new ideas and looks that are inspired by the trend. The industrial feel too seems to be go from strength to strength rather than being a passing fad, adding a tougher dimension to the usual vintage look. With this in mind it looks like vintage light bulbs are set to stay and if anything their popularity is set to grow.
Are you looking for vintage light bulbs? BLT Direct has some beautiful bulbs that will complement any style.