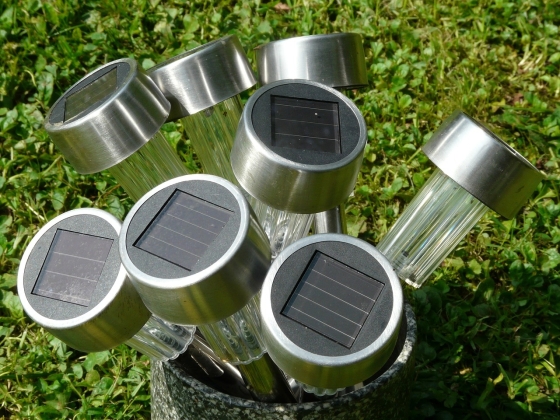 British Summer Time officially began at the end of March, and we have so far enjoyed almost three weeks of increased daylight hours, signalling that summer is well and truly on its way. BLT Direct, one of the UK\s premier providers of lighting solutions for homes and businesses, is encouraging Brits to take advantage of the recent sunshine and invest in some fantastic solar lighting solutions, which will help to keep their outdoor areas illuminated all summer without spending a penny on electricity.
Suitable for security lights, flood lights and other decorative lighting solutions, the BLT collection of solar-powered light fittings are the most eco-friendly options on the market. They don\t consume any conventional energy or electricity, instead garnering all of their power from the sun. The running costs are non-existent, meaning that summer-loving Brits can continue their barbecues and garden parties long after the sun goes down, without worrying about racking up huge electricity bills.
The quality of solar lighting has also increased dramatically in recent years, thanks to developments in modern technology. LED lamps can now be used in solar-powered light fittings, providing bright and beautiful light that is incomparable to the old incandescent options, which consumed more energy and would not stay lit for as long.
Steven Ellwood, Managing Director of BLT Direct, says, \As we approach summer, now is the perfect time to buy up solar light fittings for use around the garden and other outside areas. We have had clients in the past use them for garden illumination, one-off parties, hotel signage and for illuminating long driveways to commercial premises; the choices are endless. Whether you prefer to use them for security reasons, or whether they\re purely for decoration, our wide selection gives customers a vast range of options to choose from, so they can be sure that they will find the solution to suit them – at a price befitting of BLT Direct.</span>
On purchasing a cost-effective, energy-efficient solar light, installation is as simple as can be. The solar panel should be fixed in an area where it will get a high level of sunlight; on a roof, in a tree or on top of a fence, for example. The results will then show themselves in the evening, when high-quality light illuminates driveways, gardens, patios and outbuildings. The lighting solutions are economical, eco-friendly and highly efficient; the perfect external light source for the cost-conscious consumers of the UK.