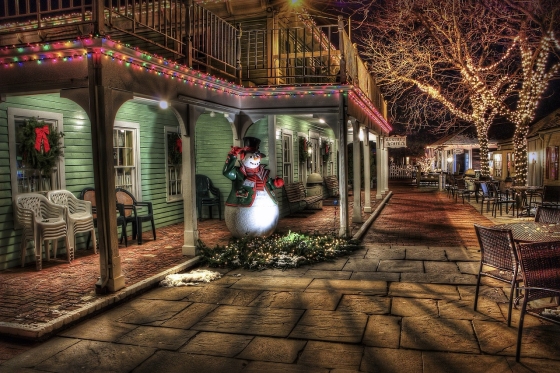 The friendly competition between neighbours that takes places every Christmas over who has the most extravagant or beautiful Christmas lights can now officially begin, with the beginning of December just one week away. Many streets or areas enjoy the yearly battle over whose display is the most original or whose arrangement can attract the most visitors. Just last year, a documentary was broadcast on Channel 4 which followed the lives of a number of people who throw themselves wholeheartedly into the spirit of the season, showing the real motives behind the extravagant decorations and the highs and lows that the Christmas period brings them. This guide runs down some of the most extravagant home light displays from across the world, and examines exactly how they achieved the desired effects.
Gangnam Christmas
This year, a man in Texas, USA, has kitted out his entire house with over 25,000 LED Christmas lights which are timed to the beat of the South Korean hit, Gangnam Style. The display, which lasts for the entirety of the four-minute song, is timed to perfect and features rippling effects and blackouts, all with a classy blue and white theme. The man behind the display, John Storms, has told a radio station in Texas that due to the cost-effective nature of the LED light bulbs he has used, the entire display will cost just $15 to run for the entire month of December.
'

Ditto!'
Across the country in Chicago, Illinois, an inventive homeowner thought outside the box in order to produce a brilliantly eye-catching display. Every year, Chet Cybulski is renowned in his neighbourhood for producing incredible Christmas light displays which draw visitors from all over the state, but his next-door neighbour, Dave Nosek is attracting all the plaudits for his original take on the tradition. Where Mr Cybulski has a display which takes a staggering five days to assemble, Mr Nosek simply wrote the word 'DITTO' in light above his garage, with an illuminated arrow pointing to his neighbour's more impressive achievement.
Somerset Winter Wonderland
After being inspired by some incredible displays on a visit to the USA, Paul Toole from Somerset decided to create a similar winter wonderland in his own home as well as raising money for charity. With a total spend of £20,000 since he first started decorating his bungalow in 1998, Mr Toole calibrates his displays so that they flash in time to his own radio station and also gives any donates he receives to the Make A Wish Foundation. More than 50,000 LED Christmas lights are attuned to flicker on and off to the beat of a song, and the display has become so popular that his last switch-on was attended by 1,000 people, as well as Only Fools and Horses legend John Challis. To find out more and order online, visit Our Wesbite
About BLT Direct:
BLT Direct are an online supplier of lighting solutions.  They provide a wide range of lighting products, as well as light fittings and lamp disposal services, and are committed to offering energy efficient solutions to meet a wide range of home and business lighting needs.