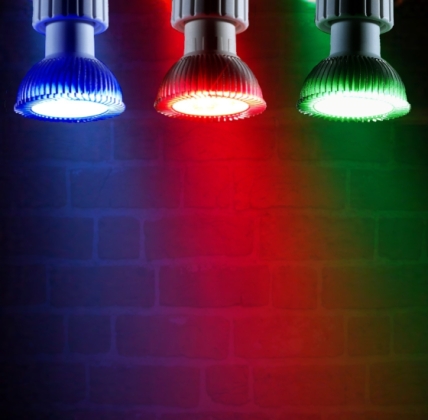 BLT Direct, leading suppliers of lighting solutions for commercial and domestic clients across the country, have strengthened their already comprehensive range of coloured GU10 light bulbs, so anyone wanting to ensure their lighting has a huge impact can now select from an even broader range of products.
The range has been expanded with a selection of new bulb colours, wattages and base, to ensure that any client wanting to dazzle guests, consumers or other visitors to their property with an array of colours, will be able to handpick their favourite light bulb option and create the light display of their dreams.
Coloured light bulbs have long since been used in commercial outlets for a variety of applications. In restaurants and bars, the magenta and blue lamps create an intimate feel that is perfect for when the sun goes down and the lights come up. Yellow lamps help to create a warm glow, and there are even rainbow lamps that are perfect for stage decoration or venues where parties take place.
Steven Ellwood, Managing Director of BLT Direct, says, We have expanded our range of coloured GU10 bulbs to give our customers more choice than ever when it comes to selecting the most vibrant, the most exciting and the most eye-catching bulbs. We know that many people purchasing coloured bulbs will be doing so for entertainment purposes, creating lighting designs that are intended to induce shock and awe - it is with this mantra that we have put together our collection, and we are thrilled to be able to provide consumers all over the country with the means to create unforgettable light displays, ambience or mood lighting in their domestic or commercial property.
GU10 light bulbs are not only perfect for setting the mood, they\re fantastic when it comes to cutting energy bills. By swapping out a conventional halogen bulb for a LED GU10 coloured light bulb, consumers are making a conscious effort to protect the environment and consume less electricity, resulting in lower bills and happier businesses and homes all round. The ultra-efficient lamps have a 50,000 hour lamp life compared to their halogen ancestors, and they can save up to 90% in energy consumption from the moment they are fitted - idea for commercial situations where the lights might stay on all day long.
Where homes are concerned, the direct impact on energy bills is noticeable. Just one bulb can save up to £19.20 over the course of its life when compared with the standard halogen bulbs. They last many years longer, they consume less electricity and they are perfect for setting the mood and creating an inviting atmosphere.