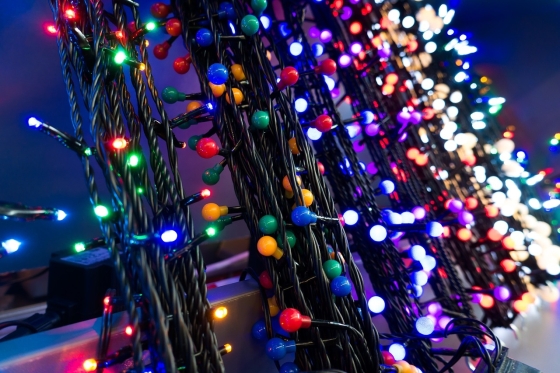 <span style=font-size: small; font-family: arial, helvetica, sans-serif;>The festive countdown has truly begun, with less than fifty shopping days until Christmas. It is around this time that people in homes all over the UK start to think about putting up their traditional Christmas lights, along with the tree and other decorations.
BLT Direct, an online supplier of <span style=color: #000000;>lighting solutions for both commercial and domestic scenarios, have an excellent range of solar Christmas lights in stock which have many advantages and can contribute towards a better festive season.
In the months of November and December, the cold weather has truly set in and the clocks have gone forward, meaning that we spend more time in darkness than we do in light. Heating bills rocket throughout winter and as a nation we use a lot more electricity in winter as we need to leave our lights on for longer. Take into consideration the lights that many residents of the UK use to get into the Christmas spirit and it can result in very expensive energy bills on top of the normal expense associated with Christmas. The <span style=color: #000000;>energy-saving Christmas lights available at BLT Direct take energy from the sun during the day, storing it until it can be utilised at night, illuminating your display in a cost-effective manner. Even with the lack of direct sunlight during the colder months, the solar energy it stores is more than enough to power the lights.
For the environmentally-conscious, the energy-saving lights are also an ideal solution. The lights dont emit any carbon dioxide or nitrous oxides, meaning your carbon footprint will be reduced as well as your bills. The <span style=color: #000000;>LED Christmas lights themselves also have a much longer lamp-life, meaning that landfill sites and rubbish dumps will not be filled quite so quickly as they would if everyone used the traditional electrical bulbs.
As these lights are solar-powered, they are also automatic, meaning they require no switching on at night. The batteries inside the lights recharge during the day and the recharge function is automatically switched on or off depending on whether its sunrise or sunset. The lights do not rely on shared electricity sources, so they are not affected by power cuts or power surges of any kind.
Another advantage of using Solar powered christmas lights is the convenience of having no wires to manoeuvre around the space. If there are young children living at the property it can be dangerous to be spreading wires and electrical appliances across a garden or a patio, but as the solar lights arent connected to any electricity source, they require no wires and can be placed almost anywhere. This may also benefit the tree at the end of the garden which has stood empty for years because its too far away from a power source to decorate!
To find out more and order online, visit Our Website
About BLT Direct:  BLT Direct are an online supplier of lighting solutions.  They provide a wide range of lighting products, as well as light fittings and lamp disposal services, and are committed to offering energy efficient solutions to meet a wide range of home and business lighting needs.