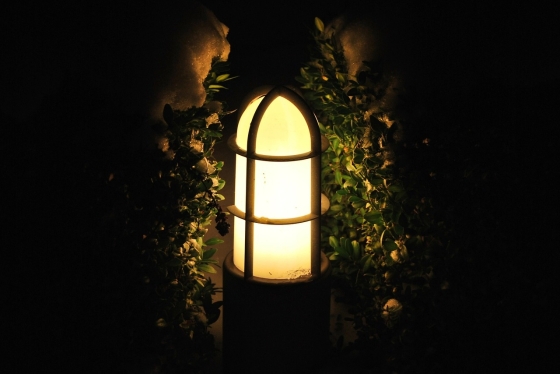 As the first signs of summer emerge, there is nothing more favourable than spending time outside in the garden, eating al fresco and socialising over a bottle of wine. Despite this, installing garden lighting to complement your handy work can bring even the most avid gardener out is a sweat. With this is mind, BLT Direct, the leading online providers of energy saving lightbulbs, low energy light bulbs and light fittings, are answering some of the most common questions associated with installing outdoor lighting.
I only have a small garden space and I would like to steer away from using floor space to house some garden lights- is there are alternative?
Yes there certainly is, I would suggest investing in a wall mounted garden light. There are so many light fittings on the market that it can be difficult knowing which one to choose, but for the avid gardener who likes dual purpose lights, our Patio Infra Red Heater kills two birds with one stone. Allowing the user to heat their patio areas and light it up at the same time- this fitting is ideal for those summer barbecues when the temperature starts to drop in an evening.
I am keen to find a lighting solution ideal for my dark driveway, but the only driveway lights that I have found in many of the leading DIY stores have been really expensive, do you have any suggestions?
Yes. Our Wooden Bollard IP65 Rated Lights are ideal for this purpose, and offer a stylish take on the traditional driveway lights. The BOL-LED-1 lights feature quality Iroko wood that requires no treatment or varnishing and they contain a high power Luxeon LED. These lights make sure that because of their cut, they look stunning when approached from any angle and not only are they tasteful they are extremely cost effective.
I have had driveway lights installed in the past and lets just say, by daughters driving has almost knocked all of them down! Is there a hardier solution to the traditional wooden driveway lights?
There certainly is, it is possible to purchase driveway lights in a metal finishes, which should stand both the test of time and your daughters driving! Our Metal Halo Effect Bollards are ideal for this, as they make use of robust technology and stunning LED light, to give an attractive look to any driveway or garden path.
About BLT Direct: BLT Direct are an online supplier of lighting solutions. They provide a wide range of lighting products, as well as light fittings and lamp disposal services, and are committed to offering energy efficient solutions to meet a wide range of home and business lighting needs.