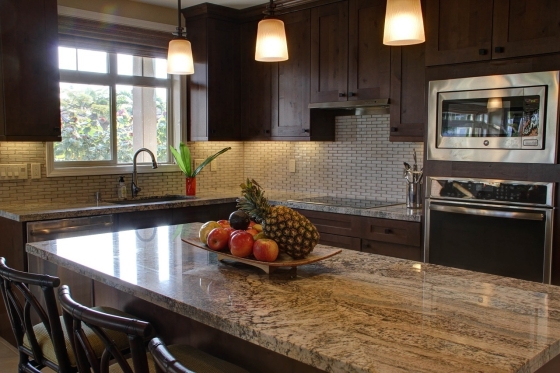 In the modern home, the kitchen has quickly become a multifunctional space. As well as being at the centre of food preparation and cooking it is also used for entertaining, and people often gather there with friends for food and drink, making for a less formal evening than a traditional dinner party. Regardless of how you choose to use this room, bright kitchen lights are a priority for many people. Traditional spotlights such as halogen GU10 light bulbs are a popular choice, but sometimes extra light is needed in concentrated areas, or alternatively, people want an option for a less harsh 'mood lighting' option. Under-cabinet and under-shelf lighting using LED strip lights, fluorescent and capsule bulbs can be a great addition to any kitchen, lighting up hard to see areas, and proving to be a subtle light source of their own to create an inviting atmosphere.
If you are looking to add some bright kitchen lights to your home but are not sure how to start, read on as we list the main types of cool kitchen lighting for your to consider.
For a lighting solution that is 'built in', you can choose between spotlights or fluorescent strip lights. For a simple fix, we recommend that you use strip lights as they can be directly fixed underneath your existing shelves or units with minimal effort. In our range of under-cupboard T5 fluorescent fittings we offer standard tubes, as well as a selection of lamps that can directly replace exiting Smilight, Eastfield and Diplomat fittings.
Using downlights means that you can dictate the intensity of the light that you add to your kitchen, choosing to install more or less depending on the level brightness you are looking for. As well as being versatile, these surface downlights are housed in an attractive casing, adding a decorative touch to any room they are placed in.
LED strip lights are a long lasting, energy efficient alternative to T5 fluorescent fittings. The light produced by many LED strip lights can be whiter and cooler than other under-cabinet kitchen lighting options, but can be perfect for those looking to create a crisp lighting finish. However, at BLT Direct we stock 24 volt LED strip lights from Aurora, offering this versatile lighting solution in a warmer temperature, with colour changing options for those that like to add a unique touch to their home!