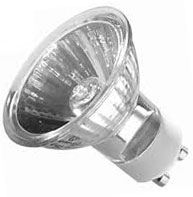 Last September it was announced that halogen light bulbs were to follow on from incandescent lightbulb styles as it was revealed that they are soon to become phased out across Europe. While the wider ban does not come into effect until 2018, it is already not possible for retailers to place new orders for high voltage halogen models such as GU10 and PAR 30 halogen spotlight light bulbs. In preparation for this looming ban, GU10 LED bulbs and other LED retrofit replacements provide the direct alternative.
BLT Direct is a leading lighting retailer, stocking a wide selection of light bulbs that include traditional domestic and industrial styles as well as more specialist bulbs to cater for specific applications such as photography, farming, theatre and more. While it still has stock of halogen light bulbs remaining, it advises those looking to keep their living and working environments lit once the full effects of the EU halogen spotlight ban are felt to consider LED light bulb alternatives, such as GU10 LED bulbs.
Steven Ellwood, Managing Director of BLT Direct said "The world is becoming increasingly aware of its responsibility to protect the environment, fuelling bans on older lighting solutions such as incandescent and now halogen light bulbs. Although these is some resistance to this move, the cost saving benefits that will be achieved by reducing energy consumption could be enough to sway even the most unconvinced amongst us."
Amongst its catalogue of extensive lighting solutions, the range of LED light bulbs at BLT Direct offers many LED alternatives to traditional lighting solutions such as fluorescent light, GLS and incandescent styles. With halogen spotlights set to become increasingly hard to find at any lighting retailer, its dedicated GU10 LED light bulb category offers replacement bulbs in many colour temperatures, shapes and aesthetic styles.
LED light bulbs emit a high quality glow, versatile enough to be placed in an extensive selection of fixtures and fittings, including string and strip light formats. However, this illumination is achieved by using around 10 times less energy than alternative light bulbs, such as halogen spotlights. The GU10 LED bulbs at BLT Direct acts as a direct replacement for halogen light bulbs, shining the same light for a fraction of the cost.
Prices of standard GU10 LED bulbs start at just £2.99, offering a lamp life of up to 15,000 hours. To browse the full range of LED bulbs and more, visit the website.