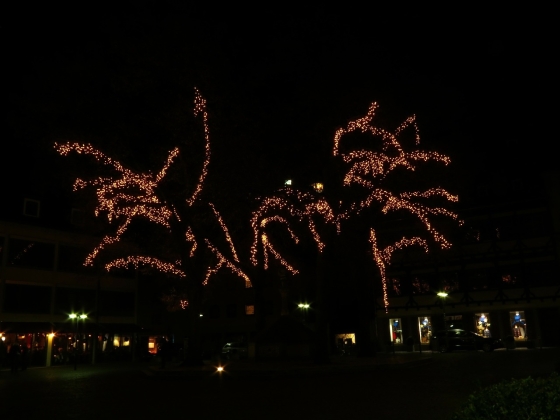 The summer may be coming to an end, but that doesn't mean your gardens can go unused and unloved. Creating a home from home outside can make your garden appealing and cosy, even as the darker nights and colder weather creeps in. And lights are the perfect, cozy addition to gardens during autumn. Lighting up pathways, steps and features can really bring your garden to life and create a welcoming area for star gazing. So what lights should you invest in to light up your outside space this autumn?
LED String Lights
LED string lights are the perfect, simple addition to outside spaces. They can be clipped to trees, fences, intertwined around seating areas and even put in a bowl in the middle of a table to set off a late summer dinner. Edison bulbs are all the rage at the minute, offering a simplistic yet stylish lighting solution inside the home. If you're a fan of the trend, go for lightbulb string lights and showcase your fashion- forward style.
Spotlights
Spotlights were once an indoor-only lighting option. However spotlights are now common in gardens. Use them around the edge of a seating area to illuminate interesting furniture and floors, highlight plants and trees or light up a stone walkway using spotlights either side of each step. And if you're really looking to make a statement, coloured lights will add depth and create a colour theme that can be followed through with plants, fences and furniture.
Illuminated Furniture
If you're looking for a real talking point, invest in light up furniture for the garden. Tables that illuminate, benches that glow and stools that light up an area are the ideal, modern additions to gardens this autumn and create a sense of fun and enjoyment for all.
Brick Lights
Forget brick-style tiles, the new way to really make a mark is to invest in brick lights. Stylish and show stopping, they will really make your garden pop in the brightest way possible. Check out our range of brick lights and LED brick lights.
Modern Lanterns
Lanterns never go out of fashion, but as the cooler months edge ever-closer, they are one of the triggers that make us feel all warm and cosy. Lanterns with candles spread around gardens will create an idyllic atmosphere. And if you're looking for something a little different, invest in some Moroccan-inspired lanterns that will create interesting shadows and shapes at the flame flickers. Lanterns that fix to the wall and contain a traditional candle shape will add character while keeping the area lit up until it's time for bed.
Light Up Trees
Affordable but stunning, light up trees are an inventive way to illuminate a garden. Either place on their own as a feature, or nestle in with traditional plants and trees for a much subtler look.
It's also important not to underestimate the power of tea lights. Tea lights are effective, affordable and subtle enough for creating intimate atmospheres as well as framing a more informal gathering.
If you're looking for lighting solutions for your outside space, check out our range specifically for use outside.
What are your favourite ways of lighting up outside areas?