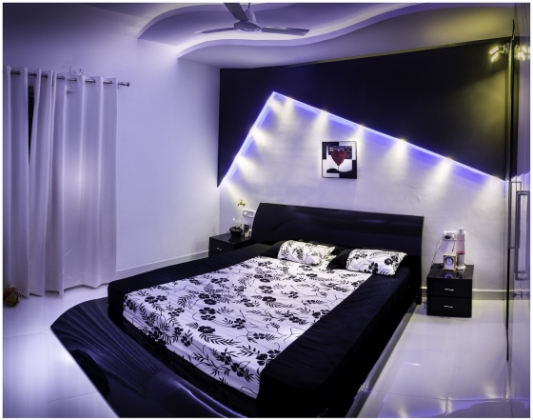 Light bulbs are a integral to the overall ambience of a home. They can be used to create effective mood lighting, and with clever use of colour temperatures they can give a room a very specific 'feel'. But this can only be achieved by matching the right lighting solution to the right room. This guide outlines the main rooms in the house and offers suggestions on how to make the best of the space using just the most basic of solutions; light.
Living Room
The living room is the heart of the house, the place where the majority of people spend most of their time, and the place where most entertaining takes place. As such,the living room should be a warm and inviting space where people feel comfortable and relaxed. Light bulbs with warm temperatures are a great choice for living spaces; in previous years this could usually be achieved with an incandescent light bulb, which has a temperature of 2,700 Kelvins, but with advances in lighting technology, energy-saving LED light bulbs can now be used to replicate this comforting and hospitable ambience.
Bedroom
The bedroom is also a place for a warm ambience, but without the brightness and vitality which is associated with living spaces. Mood lighting, feature lamps and dimmable LED light bulbs are recommended  for the bedroom, as they can be tailored to the demands of the room. Getting ready for work on a dark winter morning will require a higher level of light than reclining in bed reading a book or catching up with some television; the flexible level of light offered by these different lighting solutions is befitting of this multipurpose room.
Kitchen
The kitchen is also a well-used room in the house, with many people choosing to double up this room as a dining room. Cooking and eating requires a high level of light, with bright and vibrant daylight shades often chosen for the kitchen. Energy-saving daylight bulbs keep the room brightly illuminated and create a fresh ambience perfect for early evening meals or revitalising breakfasts. Installing track lighting on the underside of kitchen cabinets is also a great lighting solution for this space, and gives people optimum illumination for preparing their meals.
Bathroom
The bathroom is a tricky room to light because of the excess condensation and steam which will inevitably be a frequent occurrence. Downlighters are a great solution for this room, as their waterproof qualities prevent any electrical malfunctions, and they can be spaced at intervals which offer even and constant light. Lighted mirrors are also a popular choice, with LED technology incorporated into the mirrored surface to leave no dark spots or hidden areas when shaving or applying make-up.
To find out more and order online, visit Our Website
About BLT Direct:  BLT Direct are an online supplier of lighting solutions.  They provide a wide range of lighting products, as well as light fittings and lamp disposal services, and are committed to offering energy efficient solutions to meet a wide range of home and business lighting needs.