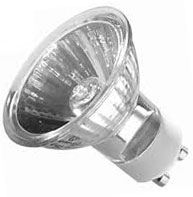 GU10 light bulbs are a focused, spotlight style of light bulb. Conventionally, they are available as a halogen lighting solution however, due to the recent EU ban on halogen light bulbs, many lighting fittings and fixtures that use these light bulbs will need to be replaced with GU10 LED bulbs. If you're resisting this change - don't worry! Switching to LED lamps will cost far less to run, plus there are so many kinds of GU10 LED bulbs available, you will be able to re-create the quality and style of light that you had previously, perhaps even discovering more creative effects along the way! Here are just three examples of some great uses for GU10 LED bulbs.
1. Bring Daylight Into Your Home
Some rooms look best when lit with a soft, warm glow, but other dim spaces or working environments will benefit if illuminated with natural lighting. Daylight (SAD) GU10 LED bulbs can re-create crisp, clear daylight, even throughout the winter months, helping to alleviate the symptoms of Seasonal Affective Disorder (SAD) while also boosting productivity.
2. Enjoy Spotlights For Longer
If your home doesn't use pendant or ceiling lamps, then it probably uses spotlights as the main source of light. While they look stylish, halogen GU10 light bulbs have a lamp life of around 2,500 hours. This may sound like a lot but they quickly burn out, leaving you with no choice but to regularly replace this fiddly light bulb. Standard GU10 LED bulbs have a lamp life of 15,000 hours, giving you a long lasting, reliable glow.
3. Create Fun Party Effects!
Lighting is incredibly effective at instantly washing any room with atmosphere, with one simple change in colour changing the mood of any space entirely. GU10 LED light bulbs are available in a variety of fun shades such as blue, green, amber, purple and red, and can also be dimmed for extra mood-lighting qualities. Investing in a coloured GU10 LED bulb can transform any room ready for a party at home, or it can be used within retail or hospitality to complete creative displays.
We have listed three creative uses of these LED lamps, but the realities of this go much further, with a huge selection of LED alternative GU10 light bulbs available at BLT Direct ready to complete a variety of lighting projects. Browse the full range online today.