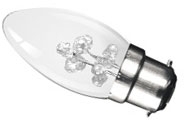 Our LED/CFL candles are a similar size however they do vary. This won't affect most peoples applications because they are generally found in table/wall lamps.
Our candles are available in various styles and finishes, from clear glass to frosted glass as well as different tips, like the flame tipped candle.
Its always worth looking at the specification tab of the bulb you're buying to see how the dimensions match up with your old bulb. As a rule of thumb, old style candle bulbs measure 35x90mm. See our tables below for popular brands and their dimensions.
| | | |
| --- | --- | --- |
| **( ****Non-Dim )** | **Diameter** | **Length** |
| **Verbatim** | 38mm | 101mm |
| **Integral** | 38mm | 105mm |
| **Crompton** | 37mm | 102mm |
| | | |
| --- | --- | --- |
| **(Dimmable LED Bulbs)** | **Diameter** | **Length** |
| **Megaman** | 41mm | 106mm |
| **Integral** | 38mm | 105mm |
| **Crompton** | 37mm | 101mm |