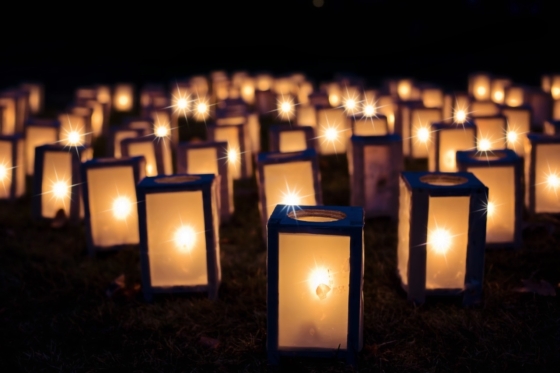 Summer has officially arrived. BBQs are getting uncovered, garden furniture is flying off the shelves, and we're all generally a bit happier. Spending time outside is one of Brit's favourite pastimes, but all too often we neglect our outside spaces when the weather is less than bright, leaving gardens looking worse for wear. But with a bit of TLC, you can have your outside space looking in tip top condition in no time. But of course, once you've trimmed, pruned, and de-weeded, you want to bring your garden to life. And outside lights are one of the best ways to make a garden pop.
So here's our guide to illuminating your outside space.
Step one: brighten up pathways
Even though the days are longer, it can get dark relatively quickly. To avoid damage or accidents, you'll want to lighted up walkways and paths. Solar lights work great for this as they charge up all day and come to life as dusk sets in. Solar post lights work incredibly well, framing paths and keeping uneven surfaces illuminated. Solar ground lights are also ideal. Fitting flush to the ground, they add a little something extra to paths and walkways.
Step two: add accents
We need to be practical, but we also want to be creative. Adding accents into foliage and bushes can make the whole space come to life. It doesn't matter whether you have a small balcony or a large, open garden, lights will always add depth. Post lights are great for this, but to really add drama, try popping in a few carefully-placed solar spot lights angled at trees, bushes, outhouses and sheds, and even statues.
Step three: have fun
Outdoor lighting doesn't have to be boring; you can have fun with it. Fairy lights are a simple way to add life to a garden and inject a bit of colour and personality. You don't have to go for the traditional plain white fairy lights, you can let your imagination run wild. Fairy lights come in a whole host of colours, shapes and sizes nowadays, so it's worth thinking about what you really want from your garden before jumping in a buying the first set to you see.
So go on, extend your home into your garden and start enjoying the summer months!